Hi there!
I've already introduced myself pretty quickly. I live in Lausanne and pay too much rent.
Following @Mr.RTF's advice, I'm publishing here are my expenses for 2018 in the hopes that a) I can get some useful feedback b) I can feel the public shame of not being that mustachian c) feel the "obligation" to justify myself at the end of 2019 to see if I've done better.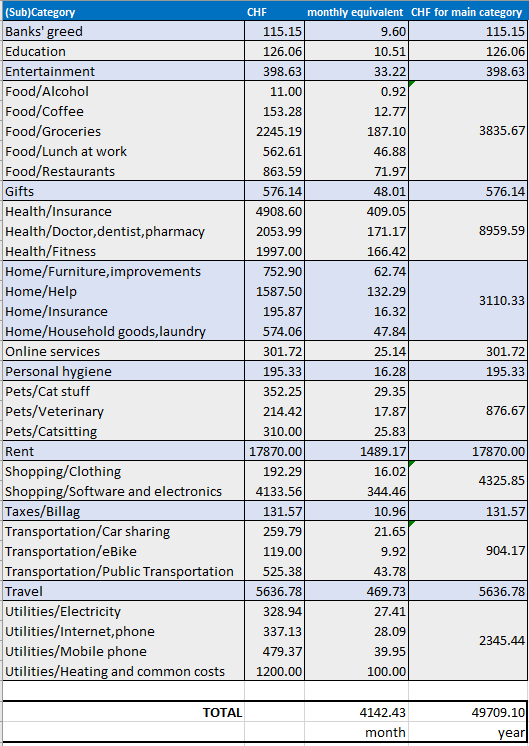 Some comments:
These are my numbers. For common expenses this is my part. Depending on which expense is considered, my part may be above 50%.
Banks' greed: will get rid of the PF credit card this year. Trading costs are here too.
Education: some books, especially on machine learning
Entertainment: Spotify, going to the movies and to the theater
Lunch at work: I do not always have a Tupperware ready…
Health insurance: went down to 300 deductible because of some health problems
Doctors, dentist and pharmacy: takes into account reimbursements from Assura
Furniture, improvements: mainly a new bed sofa and some repairs
Help: yes, we have a Putzfrau. Helps with the couple's health
Home insurance: civil responsibility and burglary. I sleep better at night
Household good, laundry: I don't understand how we spend so much in cleaning products and toilet paper. Barely use the dry cleaner's.
Personal hygiene: I like Otto's and cheap barbers
Cat stuff: this is food and litter. Maybe find cheaper litter. We are using Catsan's convenient bags
Catsitting: the poor cat can't cook for itself (yet!!)
Rent: ouch!!!
Software and electronics: awful! iPad, audio stuff, phone screen repair, useless online stuff
eBike: annual service
Travel: ouch, yes, but not as much as rent. I enjoyed myself.
Mobile phone: includes topping-up my foreign phone number and roaming rip-offs
Heating and common costs: my régie hasn't given be any money back during 2018, shame on them!
So that's it for 2018.
Now, a bit of context:
I'm not ready to disclose how much I earn, but my saving rates is not mustachian
I haven't taken taxes into account as an expense (except for BIllag/Serafe) because there's not much you can do there. But boy they are heavy. One of the "perks" of living in Suisse Romande I guess.
My asset allocation is a mess. I'm heavily invested (70% of my NW) but I've been quite a stock picker. I intend to get this under control in 2019. I have over 20 different products, most of them single stocks, some expensive mutual funds and hey, some Vanguard trackers too.
Thanks for reading up to here. I was thinking whether I should open my own blog but given how much I pay for hosting (for other online projects I have) I guess that's not sensible. And if you guys let me use this topic here in this forum as my little corner of Ed's FIRE on the Internet, I think I can feel at home.
Thanks again, tty soon