March report and things are getting serious. There has been a big miss on the 20D-4 strategy, which is now greatly behind the other ones who have just bought and held so far. To be transparent, I've had some doubts about the sense of this kind of market timing during the month, especially when comparing the time spent following the market's movements vs logging in once a month to buy with available funds and then hold forever.
These are just a set of circumstances, though, so there's plenty of time for me to change my mind in the other direction going on if some big downturn happens and I get scared with my invested funds. Even if I fully stoped believing in the strategies I'm using here, I think the experiment would be worth pursuing, be it only to illustrate how vain this endeavour is.
On the other side of the coin, I went into this believing that keeping on despite false positives was the hard part, so I'll just shrug this off and keep on. I'm curious to see where this all is leading.
Triggers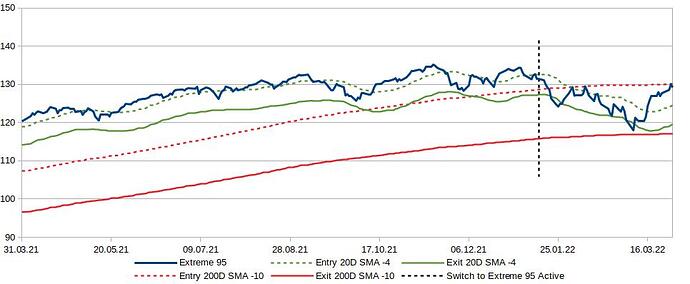 March was a continuation of the previous drops at first, then an awesome recovery from the 10th onward, starting right after the exit trigger of the 20D-4 strategy was hit, provoking a magnificent rebound right when I went out, without fail. It's true that it's hard to time the bottom, because the recovery can come quickly. I'd need a significantly bigger drop for one of these strategies to shine.
Time-weighted returns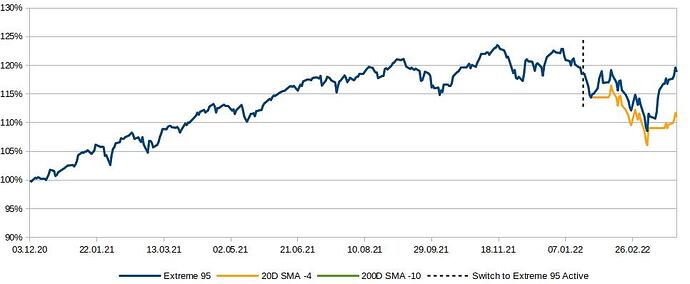 Can you spot the laggard?

Real data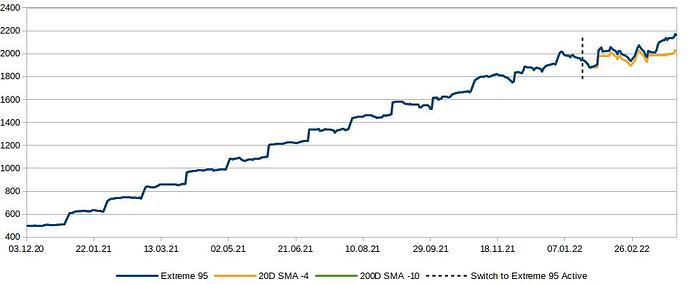 The difference is significant, though a bit less visible. It'll compound from now on.
Mood: welcoming the learning experiences: this enlightens my other investments. I have considered switching strategy toward a more buying and holding-ish one with my taxable investments at some point.
| | 20D-4 | 200D-10 | Bench. |
| --- | --- | --- | --- |
| TW Returns | | | |
| CAGR | 7.6% | 13.0% | 13.0% |
| March 22 | -1.1% | 3.5% | 3.5% |
| YTD | -9.2% | -2.7% | -2.8% |
| Max DD | | | |
| All times | -14.1% | -12.1% | -12.1% |
| March | -5.5% | -5.5% | -5.5% |
| YTD | -13.7% | -11.7% | -11.7% |
The max drawdown has increased in March as it goes from November 17 2021 to March 9 2022. It could go deeper still yet previous gains were good enough that the annualized returns are still attractive.
As stated before, the 20D-4 strategy does not guarantee a downside protection and could keep falling lower than the other two in the future.