~25k per kid per year, fulltime. you're welcome

In Geneva , I have seen 3700 chf per month for private daycare.
I am looking for Any reference for 5 days 8am-6pm a week at a rate of 2500chf per month.
Excuse me, WTF, no way you are paying 25k per month for 1 kid, did you maybe mean 2.5k per month or 25k per year?
For 25k a month I'll quit my job and take care of your children

25k CHF per year maybe

It's a typo.

Afaik ~2.5k was an "old" general price.
I believe nowadays that went up too (and nearing 3k/month in many areas).
Where I live you pay based on your income. High earners pay up to 4k a month for one child fulltime…
sorry, corrected.
Yes, per year, not per month
In Ticino you can find places for around 1k per month.
We live in VD and when our kid was going full-time, we were paying ~2.2k per month. We use them still after school, so significantly less, but just got the letter that starting from new school year there will be increase in rates. Calculated it - over 22% increase!
I love their usual bla bla bla - "we need to increase salaries". Yeah, for sure, employees will get >20% increase

What I see now in Switzerland (also other example like electrician warning us end of 2022 that starting from 2023 prices of materials will go up 7%) is what could be seen in Poland already year ago. I wonder what would be the impact of this on inflation in Switzerland…
Just finished taxes, so have numbers now.
2022 was very much a down year for me (TWRR of -16% for equity, with a 35/65 split). Thanks to high income, the hit is only about 50k CHF on net worth.
Pretty happy with pension fund performance (+2% on non-mandatory assets), it's really playing it's role here.
It's finally going up again: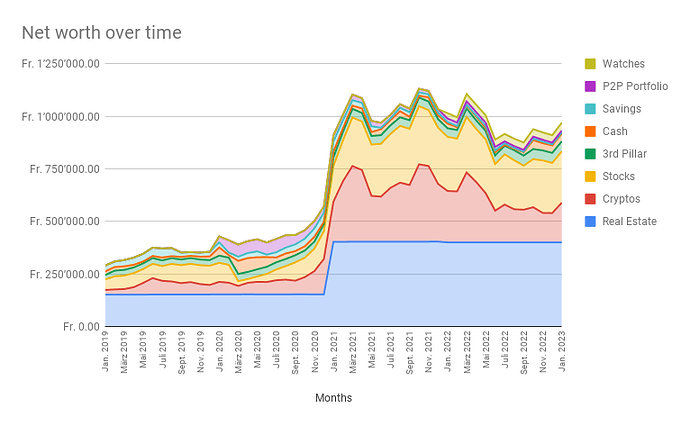 Read more here:
fondue.blog - Portfolio update February 2023 - no savings / 59k CHF NW gain