-20% in net worth last month, you are not alone

I know I should get rid of it… Was a failed attempt to short the market on the bottom last year… Just don't want to admit that 18k loss

Fuck it, market sell order placed for today…
Friends don't let friends use market orders!
It was an IB MidPrice order in the end

Hey @Sirob @SteveDB and @weirded (and potentially others), the Net Worth tracking sheet is now available in English. Check it out :
@dbu @weirded @danfaiz : we now have to specify the year in the first sheet, and the currency exchange is then fixed at the last day of the month. And for the ones that don't want to use the automatic converter, they can keep their account in CHF and do the conversion themselves. This way, the sheets stays flexible and modular for each usage.
simple & clean → Well done!
Will be useful especially for new members starting to keep track of their situation.
Below from 2012 to 2021, did not record closely in 2018 (probably was 2.0M) or before 2012. But I do remember being at ~125k in 2005 and below 25k in 2000… goal is 5M.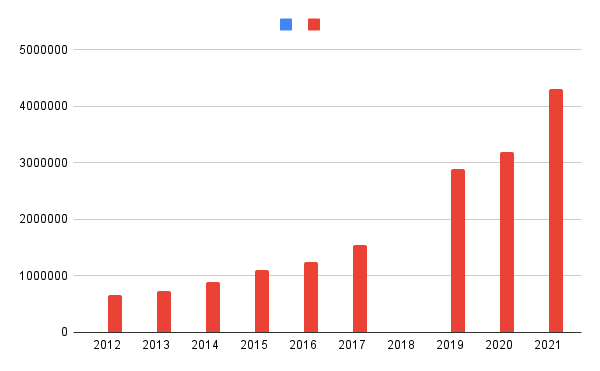 Still the wrong direction but with all taxes paid for the year (hopefully) we should be good for the next growth phase.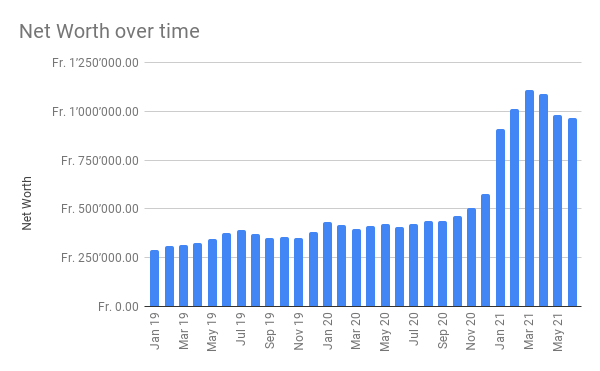 More details here: fondue.blog | Portfolio Update July 2021 - Meltdown
You should virtually withhold any future taxes that you know you will have to pay anyway, this will smoothen out the chart.
Good progress! Good to keep some cash instead of bonds. If the market drops again heavy, good way to put that money at work.
Couple of questions as data starts in 2018. Can you share:
How many years have you have been working and where if outside CH
Industry
Roles
Indeed, you can see in the spring 2020 the cash going over to some stocks

I am working in IT in CH since 2007 but earning well only since 2014 or so. Earned almost nothing before that.
Hi,
How are you accounting for your "residence"? Buy price fixed without deducting the mortgage debt? Do you depreciate it? Same for the rentals. Are these rental properties you bought and you are accounting for the buy price no debt?
Just curious. Congrats for being well over 1M!
I very slowly appreciate the amount I put into my property in CH after having done some renovations and given the recent increase in prices in the last years.
Yes I don't count the mortgage because it's huge and would depress me

. Also I probably will sell the place at some point and with the proceeds buy a larger one outright in a lower cost of living area where I'll most likely retire.
The rental is again a very conservative evaluation of its price minus the mortgage.
Nice progress. May I ask how old you are? And how much you are able to save each month?
Great success Giff!
I just can't get over the random dates at which the numbers are evaluated


Early 40s. Not sure how much we save, something around 10k/month on average I would guess
It's the day I get to freeze the numbers, any day will do as long as it is before the salary comes in.
Why did I ask, now I feel like I'll never reach FI

I make around 10k net a month before taxes. At least I have the advantage of being 10 years younger