Hello,
in March 2015 I subscribed to a 3rd pillar (CHF 6768.- per year) coupled with a life insurance at PAX. This is probably what I consider the biggest mistake of my life so far

Below are the main conditions about this contract:
-> Minimal technical rate of the savings: 1.25%
-> Minimal payment per year: CHF 1200.-
-> Waiver of premium in case of earning incapacity: ~400 per year
-> Currently I'd lose almost CHF 13'000 if I drop out of this contract.
I wrote to PAX at the beginning of November 2020 asking them:
-> To reduce the payment from 2021 to the minimum (CHF 1200.-)
-> To supress the waiver of premium in case of earning incapacity (~ 400 per year)
-> A view of the evolution of my capital with regard to the two above mentioned changes and until the end of my contract (01.04.2054).
-> Information concerning the evolution of my capital from the entry into force of the contract until today.
They replied to my at the beginning of December 2020 telling me they received my letter and needed some time to come back to me. So far they haven't came back yet.
Nonetheless, I made my calculation according to the financial plan I received from them in 2015.
-> Option 1, I keep the payment at 6768.- per year and supress the premium in case of earning incapacity. The remaining amount that I can put in my 3rd pillar and deduct from my taxes will go to VIAC.
-> Option 2, I delete the contract completely and invest the full amount to VIAC.
-> Option 3, I reduce my payment to the minimum of 1200 per year and invest the rest to VIAC.
According to my calculation, it's financially worth choosing Option 2 if my VIAC investment generates an average of 7% interest annually. At a 5% interest annually, it is financially better to choose Option 3. I attached a picture of my calculation as Excel attachment aren't allowed.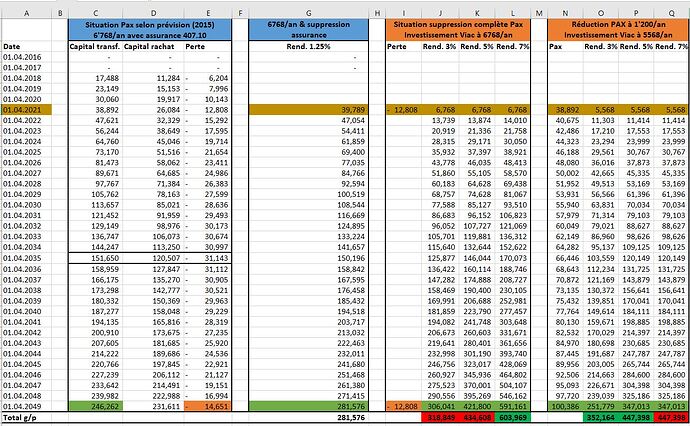 For this reason, I tend to choose Option 2 as a way to diversify a part of my 3rd pillar with a secure 1.25% interest rate, which is also financially more profitable in case my VIAC investments do not provide a 7% interest rate annually. I consider this as rather probable knowing that I foresee to gradually reduce my exposure to my VIAC 3rd pillar invested in share the closer I'll get to the "official retirement age in Switzerland". In addition to that, Option 2 give me the possibility to use the capital invested with Pax for a mortgage if I decide to buy an apartment (which isn't in my plan now but one never knows). In that case should, does somebody know if I should take into account the value of my capital at PAX (currently: ~38'000) or the surrender value of my capital at PAX (currently: ~26'000) ?
I'd be very interested in having some critical thoughts and advice about my situation before coming back to PAX.
Thank you very much in advance and I wish you all my best wishes for the year 2021!