I have a question regarding putting VT on the tax declaration.
The software for the tax declaration doesn't allow me to set DA-1, if I set the Valoren-Nummer and pull the info from their database. Here's an example how it looks: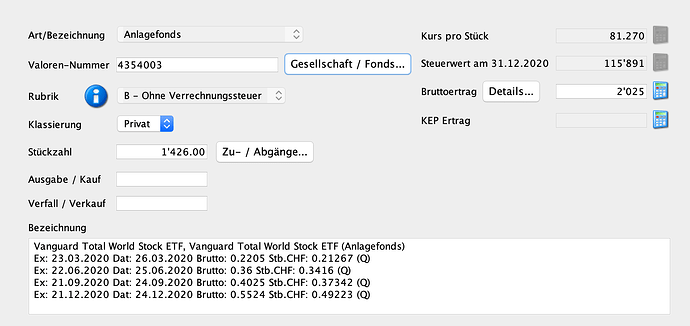 So I figured out that I'll remove the Valoren-Nummer and fill everything myself and I ended up with putting these numbers:

The main difference is the Rubrik, which gets blocked with value:
Rubrik: B - Ohne Verrechnungssteuer

and I'm trying to set it to:
Rubrik: C - DA-1/R-US

I'm also not sure about the difference between Bruttoertrag and Dividende - so I put the same number in both.
My question is - does it make sense and are tax authorities going to accept this? Thanks in advance for any help with this headache.