Just so that I motivate myself to reduce expenses: 49.8k for me ex taxes and ex AHV (AVS here in Suisse Romande) in 2018. I'm living with GF and cat, but that's just my share.
Biggest culprits: 4.3k spent on useless electronic shit (including an iPad Pro), 4.3k spent on traveling and 17.5k annual rent. Also some medical expenses.
I'll report back regarding 2019. Hope the figure is at least 10k lower. I'm on track for now but traveling to North America this summer. I guess I'm still young…

Wow,most of you guys are spending significantly less than us

In 2018, we spent 64K CHF, this is including taxes (57K without taxes). This is for 2 persons and includes our wedding. My projection is 60K for 2018, but I do not think we can go much lower.
I have published the details on my blog if this interests anyone.
Well, don't be hard on yourself. I'm quite impressed by your numbers. If you divide that by two it makes 32k/person. I'm at almost 50k. That cannot be justified even if I live in Lausanne city center.
Btw I'm Ed, recently started commenting on your blog as well.
In 2018, I spent (single, no kids) CHF 40'756 including about 12k of taxes, which makes CHF 28k of spending for the whole year if you neglect income and wealth tax. I published a breakdown (in French) on my blog, should you wish to have more details.
I plan for sligthly lower expenses for 2019, let's see if I can achieve this goal

Hey Ed welcome to the forum!
If you wish to get a constructive feedback on your budget, feel free to create a new topic under this section of the forum and publish your numbers. I am sure that people will find room for optimization

Let me chip in here!
Single with no kids living in Zurich City in his healy 30's.
Spendings:
48'000, thereof
10'000 AHV/ALV/IV/ Taxes
10'000 Housing (shared flat room…)
6'000 Health insurance (I effectively paid double as I paid my 2019 bill in 2018 for a 2% discount)
4'800 supermarket/food/restaurants
4'000 Hobbies of all sorts
3'000 Vacations
2'500 Mobility (SBB, flights, motorbike, bicycle)
According to the government for 2016 you are almost poor (single = 2247*12 =26964)
Congratulations

Hi Ed

It's good to be hard on myself for this!

You cannot really divide by two because several things to do not get multiplied by two when you live together. I still live in the same apartment with my wife than I was living in alone.
Our goal is to stay below 60K in 201, but we had some expenses I did not forecast, so I do not know if this will be possible.
Good luck to all to reduce your expenses!
So to recap 2020.
Gross salary: 101'800 CHF
Net salary: 92'400 CHF
Spent: 63'500 CHF
Saved: 28'900 CHF
Accomodation: 15'100 CHF
Taxes: 10'800 CHF
Food: 8'600 CHF
Vacation: 6'000 CHF
School: 4'800 CHF
Healthcare: 4'700 CHF
Hair transplant: 3'900 CHF
TV/furniture/moving: 3'700 CHF
Internet/mobile/netflix/spotify: 1'800 CHF
Public transport: 1'800 CHF
Gym/clothes/gifts/insurances: 2'300 CHF
I seem to have ended the year with about CHF 60k spent (Edit: That's without tax). Quite stable over the last few years, but this year with less vacation and more other expenses.
@Cortana: How do you get nearly 91% of your salary net paid out? Are you under 25?
I have the option to choose the pension fund deduction. I chose the lowest option (2.5%). This doesn't effect my employers contribution.
For 2020, 1 person, I have a total of 43k of spending without taxes. Reading all your previous anwsers on this post I am quite pleased with that number as I feel it is not to bad for having started this year. Let's see if I can further optimize next year.
Not including taxes, for a single person, Basel:
2020 spending just about 50'000 CHF
Single largest spending ~6k for the motorbike, equipment etc.
(in other years it's usually travel)
(Net) savings rate around 45%
I am quite content with that, but feel there's plenty of room for improvement (seeing some numbers above).
Total spend (1 person, taxes excl.) ~35k split roughly into following categories
~12k rent
~6k food (incl restaurants)
~4k Mobility (private + public transport)
~3k vaccation
~3k Health
Rest (~7k) is spent for family, going out, day / weekend trips, other things such as running shoes (~500), jacket, skiing etc.
I was a bit surprised when I calculated my numbers for this year.
Savings: 52.7k

Taxable: 35.3k
3a: 6.8k
2nd Pillar: 10.6k

Charity: 6k
Living: ~20k
Left out taxes, living expenses where calculated but should be about right. Planned to go to Iceland in the early summer, but that fell into the water.
More than 10% of my living expenses in 2020 where coffee (equipment) related.
2020 numbers:
tax: ~8k
living: ~ 16K
invest (IB+3a): 57k
pillar 2 (me+employer): ~ 9.3k
next year I change my job (from academia to big pharma), so a big jump in salary. pillar 2 will go to ~29k, and invest (IB+3a) to 86k. I hope they start allowing to pay-in pillar 3a gaps from 2021. That will save me a bunch in taxes for atleast 2021 (I have 8 years gap to fill). I don't want to fill gaps in pillar 2.
How do you guys spend only 16-20k on living? Does this include accomodation, vacations, health care costs, insurances, food etc?
I don't see where I could reduce my costs without sacrificing quality.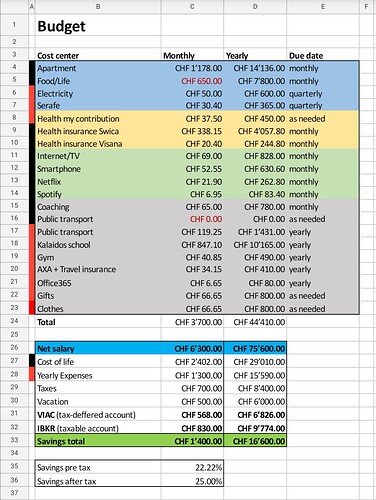 Or am I missing something here?
Married (my wife doesn't work), 2 kids living in Schaffhausen. Groceries always in Germany, commute to work by bike and car only for weekends and shopping. Normally we spend around 10K CHF per year on travels and around 1K in restaurants but this year due to Covid we saved this money.
Total Net Income in 2020: ~142.7K CHF
Net salary (taxed at sourced) : 115K CHF
Rent of our apartment in a EU country (fully paid – no mortgage): ~7K CHF after taxes
P2 contributions during 2020: ~20.7K CHF (including Exp Tax on TDA 6%, maybe it is too high). My company double the amount I contribute so I pay ~600 CHF and my company pays ~1,200 CHF, in total ~1,800 CHF/month
Saved: ~76.8K CHF
Spent: ~65.9K CHF
| | Yearly |
| --- | --- |
| Housing (Accommodation, internet, electricity and insurance) | 22,500.00 |
| Insurances (Healthcare, car and personal liability) | 10,200.00 |
| Groceries | 6,300.00 |
| Transport (gasoline) | 500.00 |
| Restaurants | 500.00 |
| Travel | 2,200.00 |
| Kids (Mainly Tagesmutter) | 4,700.00 |
| Clothes/Gifts/Mobile/Furniture | 7,200.00 |
| With Friends | 1,800.00 |
| Doctor/Dentist/Farmacy | 1,600.00 |
| Other Expenses (Serafe, German lessons, Gym, swimming pool, car checks and others) | 8,400.00 |
| | 65,900.00 |
I have roommates.
So rent is around 670 chf per month. Food and life is more like 300 for this year, so that is around 800 less, another 900 is not spent on sport, fitness and school, health care expenses are around 100 less, internet, tv and netflix also has 100 less(internet 30chf/3, digitec connect(15chf), netflix 22chf/5.
That should be the biggest differences.
I think you are doing it right.
Your biggest expenses are for home (probably quality life for you) and school (personal/ financial investment). You might be able to scratch some chf in other categories, but I don't know if it's worth it (economically and emotionally). I think at one point trying to optimize to the last cent gets unhealthy. I mean one could always search for a cheaper flat for example, but it will take your time, energy and most important your mind away from other stuff in life.