Thanks for having us. Looking forward to the frugal-BBQ-variant as mentioned by @Johnny_B


Thanks everyone for making this 4th Edition of the Bern FIRE-Meetup another success! This time with a record-breaking 14 participants coming from all across the country and spanning several nationalities!

Seated around a Vatican-shaped table, the food was equally divine and the topics rivetting and many… From the downfall of Credit Suisse, to alternatives to the 4%-rule, to an insider tip on how to get restaurant food for free, to funding a hotel project on an island in Canada, to frugally retiring in a remote part of the Croatian archipelago while achieving food autonomy, to expanding one's real estate portfolio internationally… among many, many other subjects (besides the Evergreens that are ETFs and Frugalism).
Also this edition has seen the birth of the Bern FIRE-Meetup WhatsApp group, for more spontaneous interactions and socialization (FIRE-Picnics potentially on the horizon!) in order to further strengthen the bonds within our community (the attendees of the previous Bern Meetups are welcome to join).
Thank you once again for your participation and enthusiasm, and I look forward to seeing you all again in two months' time (or next month at the Basel FIRE-Meetup) !
Stay on FIRE

…but stay cool!
Cheers!
-Nick
Hello everyone! Apologies for the work-stress related hiatus!
It's about time we'd gather again for the

th Edition of our Bern FIRE-Meetup !

Most of you know the drill by know, here's the Doodle!
Newcomers are, as always, very much welcome!
See you guys soon

Aaaaand: Check! I'll be there!
So when's the BBQ?

We can discuss the details of the FIREy BBQ at the next meetup or on our Whatsapp group, but with me lacking the time and equipment we'll probably have to delegate its organization to another member

Alright, it seems like the 12.7 is our winning date! I just booked our usual round table at the Altes Tramdepot for that Wednesday 12th of July at 6pm

See you lovely bunch there!
Hey peeps!
I would like to join as well on the 12th of July, excited to meet you folks!
(coming from Zurich)
See you there
Sounds good! make sure to add yourself to the doodle

Thanks as always to everyone who joined yesterday!
At 17 participants we broke the attendance record, despite the forecasted storm and torrential rains that poured on Bern!
As per tradition, here's a short report from this 5th Edition of the Bern-FIRE Meetup!

(apologies for taking the group photo too late at the end of the meetup to catch everyone from both tables)
This edition saw its fair share of newcomers and kept its notably expatty/international character, despite the heavier than usual swiss german representation.

Beyond the usual topics such as ETF-Investing or the 4% Rule, the topics remained various:
one young attendee proudly reported on his very first real estate investment in Belgium,
frugalistic insider tips were given, contrary views on crypto gently collided, the Do's and Don'ts of Swiss RE investing were listed, unconventional investment vehicles such as Balsamico vinegar or mechanical keyboards were "touched" on, so were the costs and hidden savings linked to sending your child to a private school, how to best deal with a pile of depreciating US Dollars left on a UK account, or sharing resources on how to best comfortably FIRE in South-East Asia, one dedicated attendee who came all the way from Zurich told us about his own successful implementation of the Financial Imagineer's legendary Papa-Bank approach with his daughter, and a discussion on how to best automate ETF purchases on Interactive Brokers turned into a meetup regular buying $55,000 USD worth of Nasdaq directly from our Vatican Table™ at Altes Tramdepot ! #JustBernFIREmeetupThings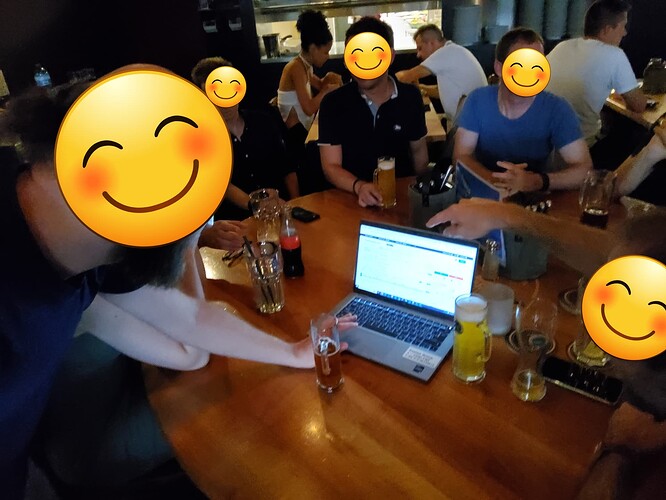 …and as always, the more seasoned investors among us were able to answers the questions asked by our less experienced attendees.

It was, once again,a lot of fun hosting all of you in this lovely venue(albeit particularly loud today) that is the Altes Tramdepot in Bern and I hope to meet you all (and more!) for the next one in the near future.
Cheers (and see you soon for those of you I'll see at the Basel FIRE-Meetup in 2 weeks ; )
Nick
Hello everyone!
Unfortunately Nick has left us to Basel, so I'll try organizing the next event, thx so much Nick for starting these great meetups and organizing them until now!
It's about time we'd gather again for the

th Edition of our Bern FIRE-Meetup !

Most of you know the drill by know, here's the Doodle !
Newcomers are, as always, very much welcome!
See you guys soon

Hey everyone,
As Chagai correctly pointed out, I have just moved to Basel after finding a job on quite short notice in a new hospital with somewhat more humane working conditions. As you may have noticed, I was unable to organize another Bern FIRE-Meetup last September contrary to what was discussed, due to truly ungodly amounts of work, which did sadden me… hence my relief at Chagai's willingness to keep the bernese FIRE burning!


I probably won't be able to join y'all for the next edition, but the next one… who knows.

It was an absolute pleasure organizing these past five Meetups over the span of 2 years, and I very much look forward to its continuance for many more years to come.
-Nick
Posting to follow and to push the thread up.
… vote for Thursday 23th people!


Hi everone, esp. the new MC: @Chagai:
When will we meet? Both tommorow and Wednesday at 6:00 pm received the most votes.
I can live with both dates.
Cheers,
J.
Alright, it seems like the 21.11 is our winning date! I just booked us a table at the Altes Tramdepot for that Tuesday 21th of November at 6pm

See you lovely bunch there!