For basic health insurance you can choose between 6 deductibles: CHF300, CHF500, CHF1000, CHF1500, CHF2000, and CHF2500.
Your yearly spend on basic healthcare will be made of 3 components:
Your monthly health insurance premium
Your spending on healthcare up to the deductible
10% of healthcare spending after the deductible (this caps at CHF700)
---
Taking these 3 components into account, we can calculate how much money we would pay out of pocket in a year with each deductible.
For the below data I requested 2020 health insurance premiums for my commune from: https://www.priminfo.admin.ch/fr/praemien
I then took the cheapest standard basic insurance package for each deductible and ran the below.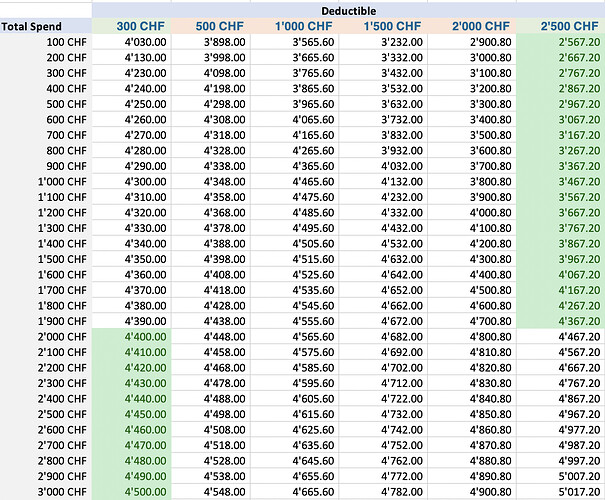 This shows that:
If you spend less than ~CHF2k in a year on healthcare, the CHF2500 deductible package is the cheapest.
If you spend more than ~CHF2k in a year on healthcare, the CHF300 deductible package is the cheapest.
At no point are any of the packages in between better value.
---
I ran the numbers for every insurer in my commune and found that this was true for every single one of them. The cutoff point between the CHF300 and CHF2500 deductible being superior varied from CHF1.6k-CHF2k (usually CHF1.9k)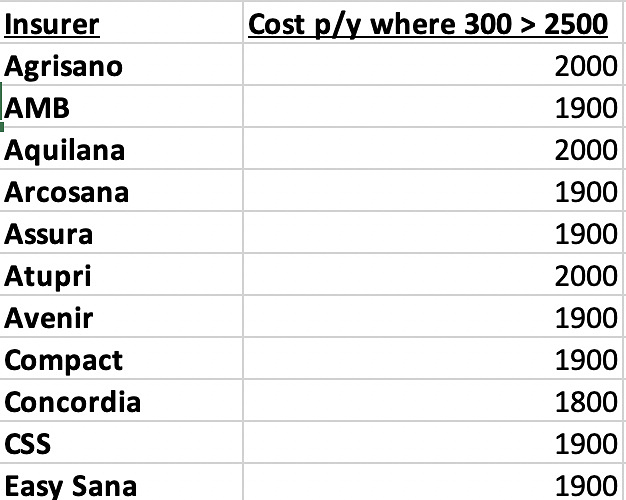 ---
To conclude
Only take a basic insurance package with a CHF300 or CHF2500 deductible
As a rule of thumb, if you are 60% confident you will spend over CHF2k in a year on healthcare than go for the CHF300 deductible. Otherwise take the CHF2500
Not relevant to this analysis but check every year for any insurer offering cheaper premiums with the web link above. Can lead to huge savings.