Hi fellow Mustachians,
I've been working in CH for 8 years now and I got interested in my second pillar value when calculating my net worth. While checking the insurance certificate received this year, I'm confused as I have the impression my employer is not contributing enough (it has the reputation to be one of the best pension fund in the country though).
It's a difficult topic, I've read both the law and the rules of this specific LPP, but I'm still struggling to understand. I've asked them by phone already and it wasn't conclusive, I'll keep trying but would appreciate having an external opinion.
Here's an anon version of the insurance certificate: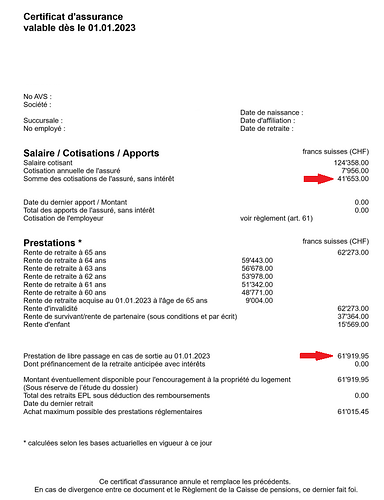 The first arrow is on the line "Sum of all employee contributions".
The second arrow is on the line "Vested benefits", i.e. what I could take away if I leave the company.
I observe that:
There's no concrete amount near "employer contributions"
The sum of all my contributions amount for 67% of the vested benefits
I've always read and heard that the employer is supposed to contribute at least 50%, so my question is whether it's normal that my contribution is in fact 67% ?
Or am I just not looking at the correct numbers ?