Broker
The most widely recommended option is Interactive Brokers, because of lowest total cost. If you're looking for a Swiss alternative, the cheapest option is Corner Trader (although significantly more expensive than IB).
Interactive Brokers
Simple instruction for your first purchase at IB:
Transfer 10'000 CHF to IB using the CH IBAN (not GB)
Login to WebTrader, check that you have 10'000 CHF
Click on the Forex tab, enter CHF, look for the CHF.USD
Enter the amount 10'000 and choose the type SELL
You should now have 0 CHF and everything converted to USD
Go to Stocks tab and type in VT, select the type BUY
Corner Trader
Sample spreads of selected ETFs at Corner Trader:

ETFs
Here is a selection of most popular Vanguard ETFs, showing which part of the market they cover. Companies are classified by their size/capitalisation (Large, Mid, Small) or region (US, Developed exUS, Emerging). Blue ETFs are domiciled in Ireland and generally meant for European investors. Green ETFs are domiciled in USA.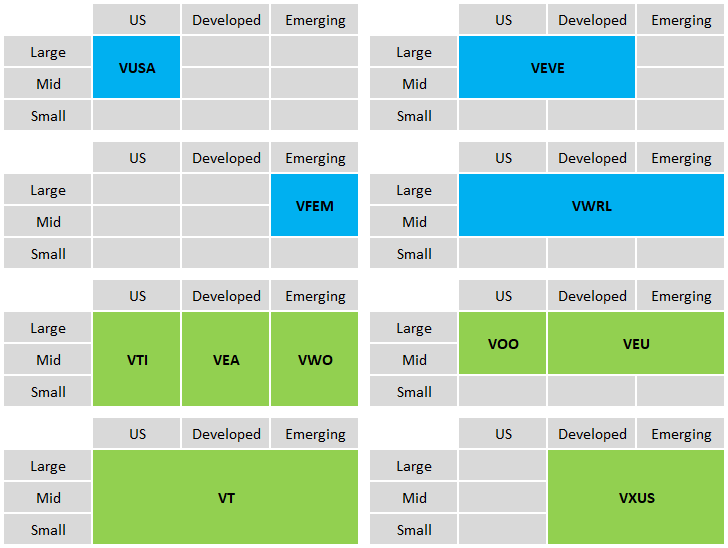 Total expense comparison of 3 popular All-World ETF mixes (as of 2019-12-08):
| ETF Name | Ticker | Inception | #Stocks | TER | 1 Fund | 2 Funds | 3 Funds |
| --- | --- | --- | --- | --- | --- | --- | --- |
| Total US Stock | VTI | 2001-05-24 | 3'611 | 0.03% | | 50% | 50% |
| Emerging Markets | VWO | 2005-03-04 | 5'074 | 0.12% | | | 10% |
| Developed Markets | VEA | 2007-07-20 | 3'960 | 0.05% | | | 40% |
| Total World Stock | VT | 2008-06-24 | 8'178 | 0.09% | 100% | | |
| Total Intl Stock | VXUS | 2011-01-26 | 7'453 | 0.09% | | 50% | |
| Combined TER | | | | | 0.090% | 0.060% | 0.047% |
| Fee for $100'000 | | | | | 90 | 60 | 47 |
Total return of selected MSCI indexes: