So today (Feb 9) another referendum round was held. I found it particularly interesting, as it was a battle of conservatives agains progressivists and of capitalists against socialists. I would be interested to hear your opinion and I would like to present mine.
Firstly, there was the "affordable housing" initiative, which fell through with only 43% in favor. I was against it, as I don't see "more regulation" as a solution to high real estates prices. Interestingly, the initiative was mostly supported in big cities like Zurich, where over 60% were in favor.
Secondly, there was the "anti-discrimination" law, which was accepted by 63% of voters. I was surprised that we still need to protect LGBT people in Switzerland. Also I don't know how exactly they want to implement this law and prove discrimination. In a truly libertarian tone I would say, if someone doesn't want to hire you because you're gay, then why should he be forced to?
Then we had even more interesting voting in canton Zurich.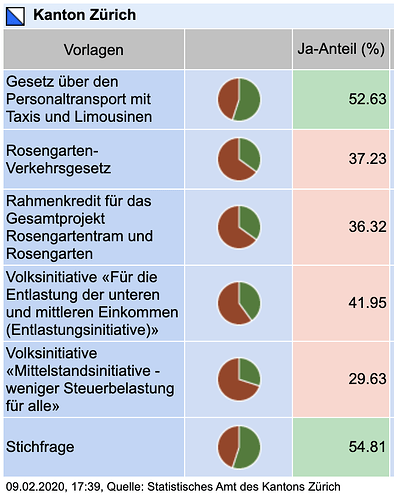 Taxi-Gesetz (YES) - a really stupid law which put the same requirement on all taxi drivers. It's goal is to kill Uber etc. I find it very anti-free market and I'm sad that it went through.
Rosengarten Tunnel (NO) - big tunnel in the middle of Zurich for 1.1 billion CHF. Interestingly, Zurich itself was the most against this project, more than the rest of the canton.
Entlastunginitiative (NO) - a terrible project of Junge Sozialisten which remodelled the income tax curve, lowering the tax rate for people earning below 80'000 and massively increasing it for high income people. Luckily it didn't go through, but I find it sad that such ideas even appear. High income people already pay much higher taxes, and increasing progression would only push them out of the canton.
Mittelstandinitiative (NO) - a counter-proposal, which lowered the taxes for everybody. Surprisingly, even the rich towns were against it. I'm not sure why.
Here the detailed results from Zurich. Notice how only Kreis 7 & 8 (Hirslanden & Seefeld) were against the tax-steal proposal. This is where the nice houses are in Zurich.

And here, for comparison, the Gold Coast. Notice only 20% support for higher taxes, but somehow not much enthusiasm for lower taxes.