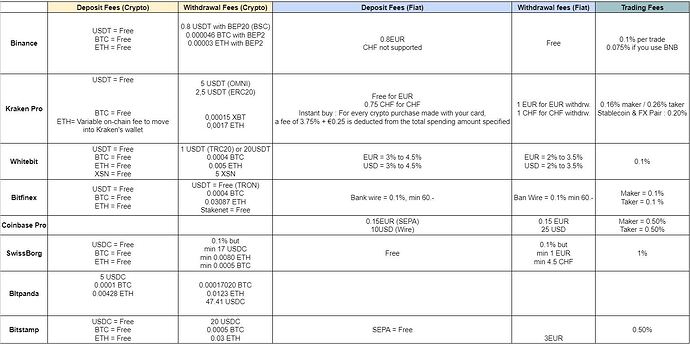 06.04.2021 EDIT : Updated crypto deposit + added Bitstamp Exchange
Hello,
I've been comparing the fees on some exchanges, I figured I post it here, it's nothing crazy, but it might be useful to someone.
Just a few note
I always took the worse taker/maker fees which correspond to the lowest trading volume
For the others fees, when several options where available for the same coin, I choose the cheapest.
Bitpanda supports CHF, however I did not find the fees for fiat deposit and withdrawals. I wrote to the support and will update when I have an answer.
To the people using Kraken, could you confirm that the deposit fee in CHF is only 0.75.-. The 3.75% from what I have understood for the website is if you use instant buy (kind of similar of coinbase non pro).