This was already discussed in https://forum.mustachianpost.com/t/free-spotify-netflix-and-more-benefits-with-a-risk/7100 but the thread was closed since it looked more like an affiliate marketing attempt.
I've heard from the same card thru a friend now and gave it a try. I'm on the 3% cashback tier and it works pretty well so far. Today I got my physical card and while I struggled to get the PIN for the card I managed to do some online purchases before with the correct cashback arriving.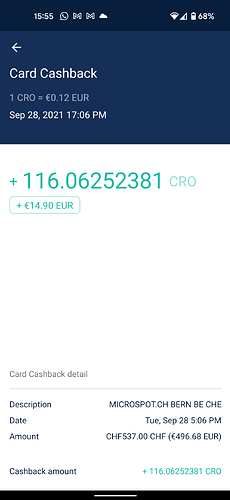 Pros:
Up to 8% cashback (but you need to have a special type of trust in the company to stake 400k USD in CRO tokens)
The Staked coins earn up to 12% a year, e.g. I've already got 5 EUR worth of tokens after one week of staking the ~3500 EUR.
Netflix & Spotify for free (currently trying my Turkey Netflix VPN trick with the card, can report back at the end of October if it works and if they reimburse the whole UltraHD plan or not)
Cons:
Base account either in GBP or EUR
App is not that intuitive (e.g. Crypto top up for the card doesn't work for me, PIN didn't show up until 14:00 when I received the card at 10:00)
The double conversion CHF → EUR → CHF even at interbank rates doesn't seem to be ideal (I'd need to calculate if it's worthwhile to keep Revolut Metal and do the CHF → EUR conversion there or just top up with the Neon card instead) also I don't know if they have unfavorable rates on the weekends like Revolut.
Google Pay / Apple Pay not yet working (could be bypassed with Curve but they're not available in Switzerland officially yet)
Let's keep this thread focused on how/why that cashback offer is even possible instead of creating another invite link spam fest.