No I'm still working. But after my last day I'll ask my pension fund to split it up.
Is the split defined by the obligatorisch & über-obligatorisch parts (i.e. for most people that'll be about 80:20 or 70:30) , or can you choose any split you'd like (typical choice would then most probably be 50:50)?
You can split 50:50.
(I'm not sure if you can split between mandatory and non-mandatory part. Though I think I have reversely seen such from AXA as payment instructions for incoming transfers into some of their pension funds).
Hi! Very interesting topic, I'm definitely thinking about a switch from VIAC towards finpension…just a quick question that I look and didn't find an answer for : does someone have an idea about the costs of the switch?
I mean, they would probably sell everything on VIAC and rebuy everything in Finpension…no?
For me, the cost difference in ongoing costs is too small to make up for the cost of a transfer.
Being out of the market for a month is already around 0.5% lost expected return plus a decent portion of uncompensated risk.
Below some screenshots from my first experience with finpension. The trades correctly occurred on 02.11.2020. Please note that it took around 3 days to update the information in the app.
Wow, pretty cool and a lot of details that Viac is missing! Sectors and Top10 holdings for example.
Yes. Another reminder not to invest in Apple Inc. with my "play money"

Here's mine. I went full SPI Extra thinking it would be Chocolate, Medtech & other niche Techs.
The App shows 28% banking & 17% insurance


This is clearly not what other sources show for this fund.
I don't understand why it says 7% Partners Group, they are in the SMI since mid September. I understand that funds don't instantly adjust such holdings, but End Sept already they are not on the Fact Sheet from CS for this fund any more.
Maybe @finpension could make a statement here. Are you using "old" index % values for the app calculations?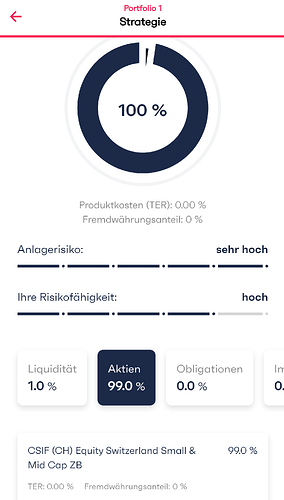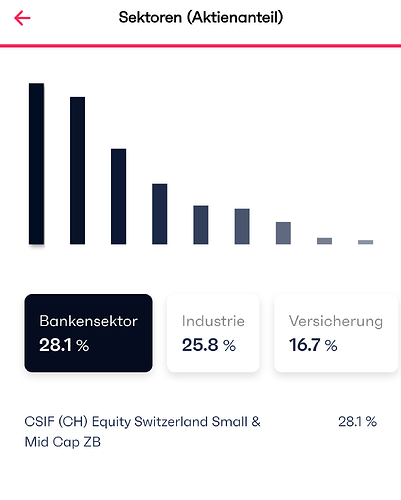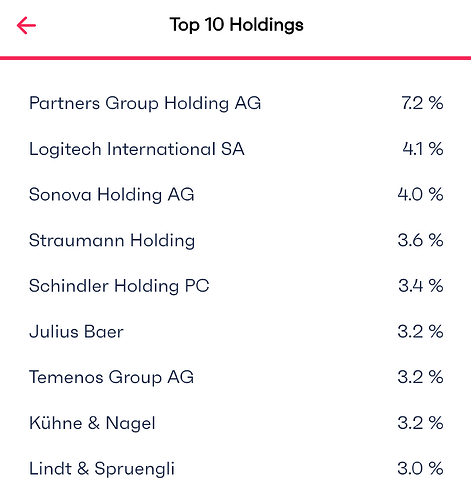 It takes 3 days because CS funds are settled only after 2 or 3 days (It's the same for Valuepension)
Hi rolandinho,
Many thanks for the hint. Unfortunately, CS is not yet prepared to offer us a direct data feed for allocations into our system (but should be available in a few months). Therefore the data is currently still being prepared for us by CS in a structured file and delivered with a delay. Since there have been major shifts in SPI Extra and SMI, we will update the data as soon as possible.
Kind regards,
your finpension-Team
Hello @finpension ,
Why are you using the following fund: "CSIF (CH) III Equity World ex CH ESG Blue" and not the "pension version" CSIF (CH) III Equity World ex CH ESG Blue - Pension Fund ZB (CH0337393745) like for Valuepension? I'm not really happy about that because the dividends will be taxed. I thought wrongly that you would use the same fund as Valuepension.
Also, no sure to understand the transaction, the NAV of the fund is the following, but the asset price of the transaction was 1073.30 on the 2. november.
| 04.11.2020 | 1090.33 |
| --- | --- |
| 03.11.2020 | 1072.44 |
| 02.11.2020 | 1059.02 |
| 30.10.2020 | 1040.92 |
| 29.10.2020 | 1046.79 |
EDIT: I assume it's the Subscription spread of 0.08 (1072.44*1.0008=1073.298)
Hi @wapiti,
The unit class "Pension Fund" also reclaims withholding taxes in Japan. Unfortunately, there are currently differing opinions as to whether 3a foundations are allowed to subscribe to this share class. Currently, CS does not allow 3a foundations to subscribe to this share class (valuepension as a 2nd pillar foundation, however, can subscribe to this class). We are currently in the process of clarifying the situation in more detail. Credit Suisse is now in the process of obtaining a legal opinion on the matter. We are making every effort and hope that we will soon be able to offer the Pension Fund class for this investment instrument as well.
Kind regards,
your finpension-Team
Isn't VIAC using "Pension fund" World ex CH in 3a?
Edit: Ah I see, we are talking about ESG funds.
Why would it be different for ESG funds? You are using "pension fund" unit class for World ex CH
CSIF (CH) III Equity World ex CH Blue - Pension Fund ZB/ZBH
CSIF (CH) III Equity World ex CH Minimum Volatility - Pension Fund DB/DBH
CSIF (CH) III Equity World ex CH Quality - Pension Fund DB/DBH
CSIF (CH) III Equity World ex CH Small Cap Blue - Pension Fund DB/DBH
The names of the share classes are somewhat misleading. For example, the share class for which the withholding tax is also optimised for Japan and Canada for the Equity World Index is called "Pension Fund Plus". This class is currently not accessible to 3a foundations (due to the legal uncertainty regarding Japan). In the case of ESG, the situation is somewhat different and Japan is included in the "Pension Fund" share class. However, we look at these details very closely and try to find the best solutions for all possible optimisations on the investment side in the interests of our clients.
No doubt about that, I'm just trying to understand. The impact of no withholding tax on Japan and Canada dividends is low, however, this is not the case for the US.
Are you speaking about ESG? because Japan is not included in EM.
Based on what I have read on the "Fund Contract with Appendix" from CS. I have understood the following (I found no mention about Canada):
| | USA | Japan | Canada | Note | Index |
| --- | --- | --- | --- | --- | --- |
| Equity World ex CH Blue - Pension Fund | x | | ? | | MSCI World ex Switzerland (NR) |
| Equity World ex CH Blue - Pension Fund Plus | x | x | ? | Only for pillar 2 | MSCI World ex Switzerland (TR) |
| Equity World ex CH ESG Blue - Pension Fund | x | x | ? | Only for pillar 2 | MSCI World ex Switzerland ESG Leaders (NR) |
| Equity World ex CH ESG Blue | | | ? | | MSCI World ex Switzerland ESG Leaders (NR) |
x=no withholding tax
Is it correct?
In any case, I confirm that this point is hidden on the documents from CS and the share class names don't help.
Yes, that is correct. The withholding tax in Canada is 25% on dividends. All 4 mentioned funds can reclaim 10% of the withholding tax and 15% is non-reclaimable. Therefore, only a portion can be reclaimed in Canada. It is important to note that the withholding tax situation may change over time.
Quick question here. I opened an account with finpension and i wanted to play with it to see the options. But I cannot find how I can customize the investment strategy to choose my own indexes. Will this option become available after I deposit some money there? I am planning to move the 2021 to finpension and when I need to rebalance to move portfolios from viac to finpension. I dont need the insurance they have, and I do not like the spread they have for currency exchange, as when I need to rebalance my portfolio…losing too much on this, but I dont mind the difference for the fees right now.
By the way, has anyone studied the fee model in detail?
If you leave Finpension within one year you'll pay 150 chf.
Not that I'd be planning to jump from one 3a provider to the other all the time.