I want to have a rational asset allocation so I did a bit of reading about modern portfolio theory.
There is this nice idea of plotting all the risky assets on two axis: risk vs. return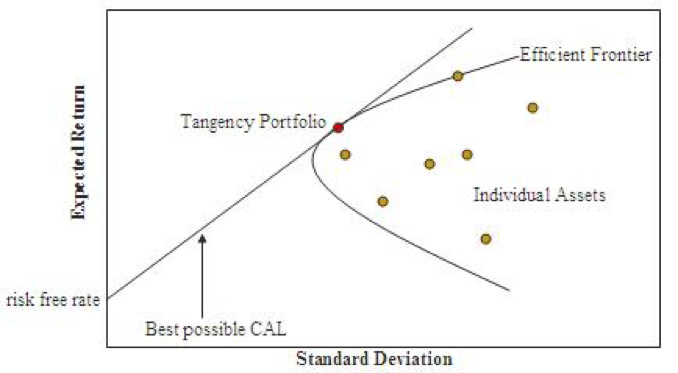 Then for each fixed level of return, you can find the unique combination of assets that minimizes the risk. That defines a point for each return levels, and gathering all these points you get an "efficient frontier", where all the "good" portfolios are. You want your portfolio to be on this frontier if you're a rational investor.
A further claim is that the Total Stock Market portfolio (like VT) lies on the efficient frontier. That means that if you only have VT in your portfolio, it's a bit boring, but also maximally efficient. So you should give your own shoulder a deserving pat.
But this last point is actually very wrong.
Let me explain: a portfolio on the efficient frontier is defined by the weights that are associated to each asset, and the only constraint on these weights is that they have to sum up to 1.
Since these weights are somewhat random numbers only constrained by "sum = 1", one would assume that some of these weights can be negative.
In Impossible Frontiers, two finance professors show that indeed as soon as you have more than > 100 assets to pick from it becomes extremely likely that some of the weights are negative numbers, and that this is the case for all the portfolios on the efficient frontier.
But, by definition the Total Stock Market portfolio has positive weights on every assets. So it does not lie on the efficient frontier. And as long as your portfolio in not shorting at least one stock, it also cannot be on the efficient frontier.
So none of our portfolios are efficient. I find this thought very liberating