I'm trying to see where I shall realign my portfolio's asset allocation for 2022, both pension-wise as well as the active investments.
I'm invested into Swiss properties, Quality indexes, Fundsmith and a heavy tech/innovation stock allocation. I'm not an the VT type of guy - maybe it's time to become one?
However:
property prices are in the sky
raw material prices are in the sky
SP500 is in the sky / global equity allocation is in the sky
Nasdaq is closing in on the stratosphere
US federal government spending is not going to be reduced → dollar about to lose even more value (albeit: stocks will go further up by inflation )
inflation is here to stay for 1-2 years → rates will be hiked / tapering might speed up → bad for stocks
crypto… well, needs nerves.
I've been looking at a lot of analysis and the majority of it hints now into a final bull run before an already overdue crash/risk-off phase in the equity markets. That run might or might not happen or might be much longer than expected, we don't know of course.
This image tells probably the most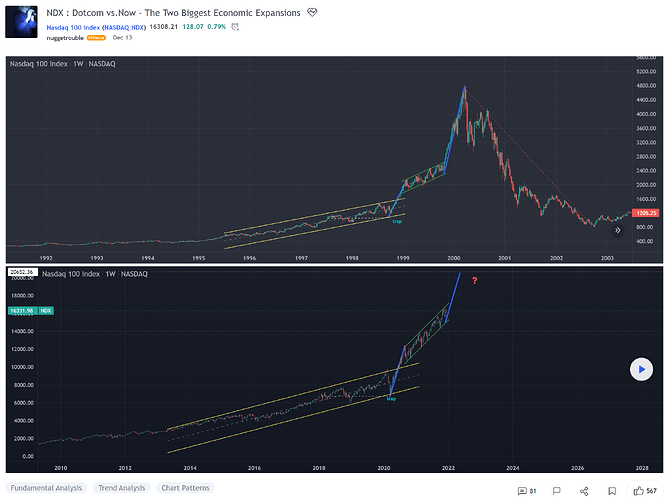 Sitting tight and waiting does seem to be quite a risk for 2022.
What I thought so far:
activating stop loss orders on all my stock and ETF picks into a "safe" lower margin (which is TBD)
trying to look for a "death cross alert" system (does anyone of you have such handy?)
Opening a "safer" strategy with finpension and pulling my other 3a into it (FP allows for weekly reshuffling if needed). I'm thinking a 40/60 stocks/bonds allocation, not sure yet.
looking at value instead of tech for the future (I'm not convinced)?
keeping cash on the side for a potential larger correction run (that's the easy bit)
opening a crypto wallet finally, just to have one (where?)
Anything else? What are your thoughts for 2022?
Will you realign your portfolios?
Will you move away from 99% equity in your pension plans? If not, will you change allocation style?
Will the more tech oriented among you move slightly back towards a VT style?
Will you rebalance allocations between equity, bonds, property or commodities?
Will you tighten your trailing stop loss on your stock picks?