Hello everyone
I moved out from home and still have a very expensive insurance policy which my family paid until now. My insurance company is SWICA, they're awesome and I'd like to stay with them.
My franchise is at 300.- which doesn't make much sense because I'm very young and healthy. I visit the dentist once a year for a checkup (+ occasional repairment.) I hardly ever go to the doctor, only when I have a small sports injury or vaccination treatment. Last time I went to the doc was more than a year ago…
Here is my policy: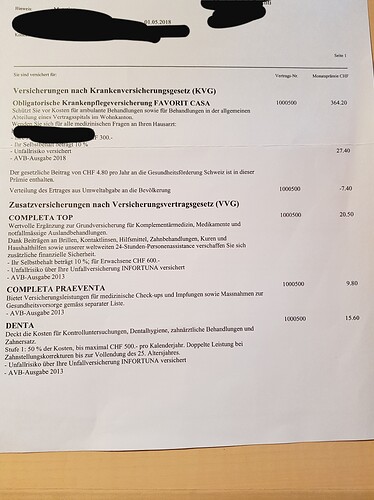 !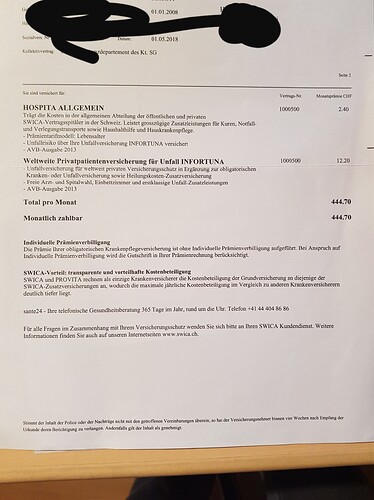 !
I could lover my general coverage from
CHF 364.- to CHF 218.-
a month by choosing a CHF 2'500.- franchise instead of CHF 300.-.
I heard that the saving amount on high franchises will be cut back significantly in 2019, do you know more about this?
I'm using the "Family Doctor" model and liked it a lot so far. Which one are you using?
I currently have the following supplementary insurances selected, they cost around CHF 60.- per month. Link with information: https://www.swica.ch/en/for-private-clients/insurance-solutions/supplementary-insurance
Hospita Allgemein --> 2.-
Covers costs in SWICA approved hospitals
Accident Cover as a Private Patient - Worldwide --> 12.-
Full cover of all costs when I have an accident worldwide.

Single bedroom and emergency transport coverage worldwide.

Full cover for the cost of glasses, medically prescribed aids and dental treatment
Does this mean I can send every dentist bill and they pay it or is it just accident related?
Completa Top --> 20.-
Emergency transport (already covered above!)
Homeopatic Medicine
CHF 200 for glasses every 3 years (don't have glasses yet)
50% of Orthodontic Costs up to age 25
Benefits for prescribed spa treatments
Benevita Bonus Programm
Completa Preventa --> 10.-
CHF 500 participation for fitness, nutrition & relaxation
CHF 200 for vaccinations per year
CHF 500 for preventive medical check ups every three years
Denta --> 15.-
CHF 500 for dentist checkups and fixes
Which ones would you cut? I'm <25 and a student, can I get additional savings / benefits by saying this and that I want to pay yearly? The new policy amounts to CHF 280.- instead of CHF 445.- by increasing the franchise from CHF 300.- to CHF 2'500.-.
I'm currently still insured for accident with my employer but never took it out from my policy. Can this be done in hindsight?
Thank you very much for your thoughts! Apologies for asking so many questions but all of this is new for me.