This might be a bit controversal in a FIRE or Bogleheads forum, but anyway it might be of interest for one or the other here.
Just around week a friend of mine dropped me a link (https://www.thebirbnest.com/) and pushed me to look into this site/service. They are publishing high quality buy/sell signals and having a very lively Discord/Telegram channel with a lot of sub-channels around trading and knowledge sharing like webinars. They are professional traders in crypto, forex, stocks and commodities. There is a free trial for 7 days, where you can sign and test it out for a week.
My experience - I followed the "Official-Calls" they provide, did -3- calls which did make sense to me and was in/out within 2 days of that trade with a stupitly high profit margin (54%, 48%, 46%). Of course this must be the typical beginners luck… I guess.
So I do have now a yearly subscription and it is already paid (several times!) by one call like this below from yesterday: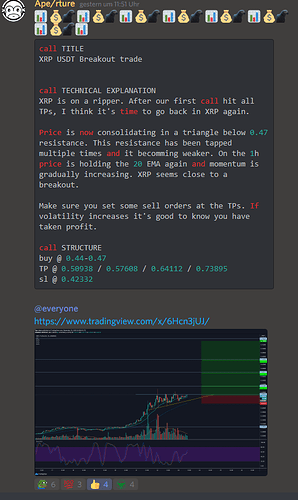 https://www.tradingview.com/x/6Hcn3jUJ/