While reading articles on SeekingAlpha, I found out an article about a dividend growth strategy written by Fred Piard (https://seekingalpha.com/article/4124541-kiss-dividend-strategy-worth-15-percent-year-part-2). His original work is based on stocks coming from the Russell 1000 index. I decided to try to apply the same idea on the Swiss stocks.
Rules
The rules are quite simple:
Sort the original list by dividend yield. Pick the top 200 stocks.
Rank these candidates by ROA (return on assets). Higher ROA is considered better.
Pick the top 20 remaining stocks. To preserve diversification, skip a stock if you have already 5 stocks in the same sector.
Repeat every N months and buy/sell to match the latest list. (can be every month, twice per year, …)
The rebalancing frequency depends upon several factors: transaction costs, active/passive style of portfolio management, taxes, etc. For the reasons behind the ROA usage, please check the original article by F. Piard.
Swiss stocks selection for Nov. 2017
I applied this process on the listed Swiss equities, I did not start from an existing ETF, as most of them are restricted to SMI or SMIM stocks, I wanted to use a large universe. I had to extract information from various .csv available on SIX pages as well as retrieving the ROA/div. yield by parsing html pages. There is no easy (free) API or Excel file with all required data that you could download at once.
Here is the result for Nov. 2017. One stock is in red because the dividend yield is extremely high and that could be a risky investment. Many DGI investors like to keep stocks with dividends in the usual 1-4% range, these stocks are less prone to dividends being slashed.
Here is the result for the Russell 1000 screening: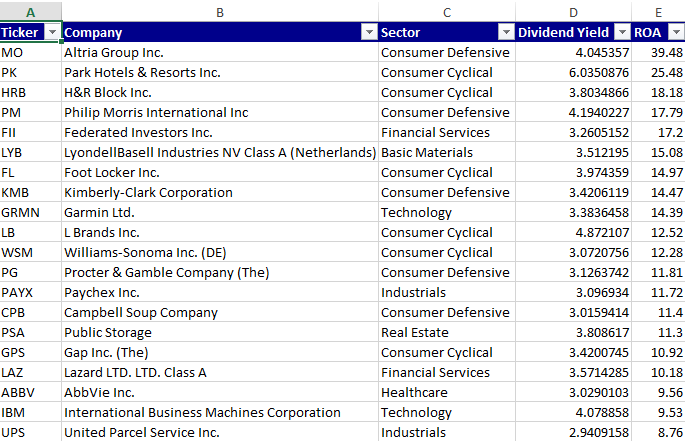 Developers may be interested in this (C# code) - only Russell for the moment, Swiss stocks will follow: https://github.com/albc4l/russell