Hi All,
First, thank you so much for all the great information in this forum, I have be devouring so many great threads and discussion - thank you!
I opened an IB account and put together a portfolio, I have it below. I have two question I would really appreciate some help on:
The CSIF (CH) Equity Switzerland Small & Mid Cap FA looks like it has very low trading volume and when I try to buy it on IB - it says it's price is zero. Does anyone know why this is? I found the stock in one of the Mustachian ETFs forum threads and I want to invest a little into Switzerland but stay away from large cap as I get plenty of stock from the corporate I work at.
CSS1 (ISIN: CH0222624659) has a zero closing price?!


Does this portfolio make sense? I go with a lot of stocks as I am still very young, and I already get stock in the big swiss corporate I work for - so I tried to get a well diversified portfolio with more weighting in EM as I have a high risk tolerance (and plan to invest for ~40 years minimum).
My portfolio strategy: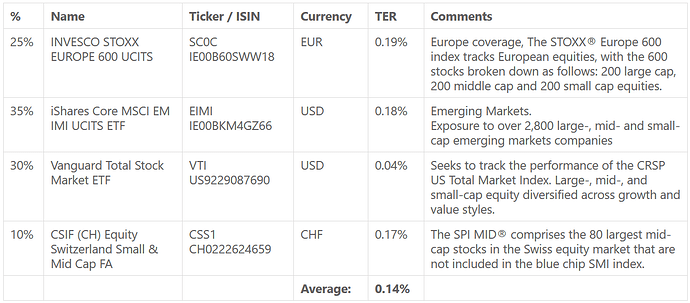 Really appreciate your thoughts and also if you have any other great ETFs to recommend!