Hey guys, I have a very minimal portfolio with only VT that I had since the beginning of last year (2021).
I'm not quite sure where to add the positions though in the tax declaration for 2021. Did I do this correctly?
In "Wertschriftenverzeichnis" I only added my bank account and the cash I had in my IB account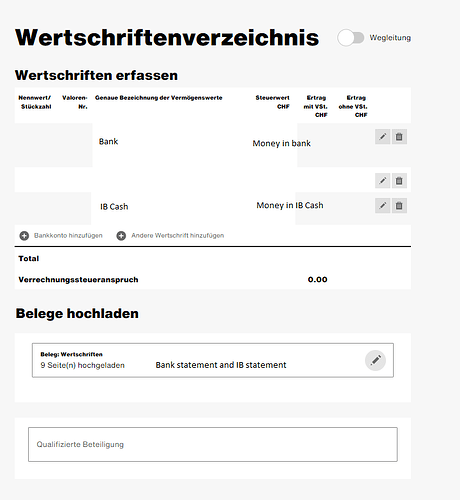 Then under "Angaben zum DA-1 Formular" under "Fragen an die Besitzer von USA Wertschriften: Sind im Antrag US-Erträge enthalten, die in den USA den Einkommenssteuern unterliegen?" I said "Yes"

And under "DA-1 Wertschriftenverzeichnis" I added all my VT and uploaded the IB-activity statement.