you apply online and get the documents by post, identification can be done at the post office or a branch.
Was looking at the Cembra possibility.
Looks interesting, yes.
I esp. like, aside from the competitive interest

that, in these uncertain times, "Die Kassenobligationen der Cembra Money Bank AG sind durch die Schweizer Einlagensicherung pro Kundenbeziehung bis zu CHF 100'000.-- gedeckt."
https://m.cembra.ch/en/products/savings/medium-term-notes/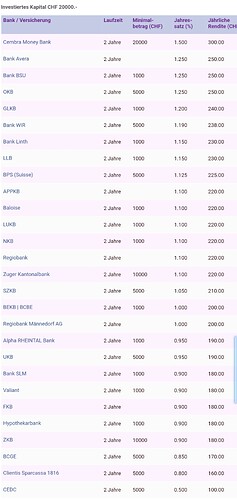 the 2yr one is quite nice, but we're currently seeing interest rate expectations go down again for the mid- to longer term. so i'm locking in the juicy 10yr yield (with mentioned 100k 'insurance') as a partial 'hedge' within my bond portfolio.
Actually it means that couples can open 2 individual accounts and get 200k CHF state insurance… without being accused of cheating

.
Small question: if I leave the country and move abroad, there is no way to recover the withholding tax, right ?
Nope, already had that issue…
But depending on the DTA, you can declare it in your residency country (kind of like the DA-1 in Switzerland)
btw, response to another call i just made:
should the interest rate change after you applied online (time gap until documents received & returned and money transferred & note set-up), they'll give you the better rate (if down => according to application date / if up => the new one).
One downside is that the compounding doesn't work here, because they pay the interest out yearly.


But that might be the case with all mid term notes, never tried any before.
And this still gets taxed as income, right?
that part is true for many fixed income instruments, and is comparable to an etf with dividends being distributed instead of accumulating.
yep
current champ for 3 years (medium-term notes), the spring special (till june 30 / german only, i guess) by alpha rheintal bank: 2%
Splendid duration, too bad my german sucks. I guess the next best deal would be 4 years @ cembra.
I have question, I you move abroad and i.e have 10 obligations with cembra, they will ask you to close accounts? Thanks!
How long have you been waiting for documents? Thanks!
cembra was quite fast, a day or two
That's quick. So you just sent them online form or you needed come in person to apply for kassenobligation? Thank you!
both options are available - i.e. identification can be done at a branch (free) or, if applied online, via post office (~25.-) / sbb (~18.-) / municipal office (not all of 'em do it, but can be cheapest among these).
Thank you! Need check it then, I was thinking of long term deposit but not sure if I move abroad in year or so they would allow me keep long term obligations (i.e 5 or even 10 years as interest is competitive compared to oder products in chf).
a) why chf if you intend to leave?
b) cembra probably doesn't care, they need to fund their consumer credit business

As swiss frank is good option to diversify risk (I would not convert all to foreign currency taking into account currencies forecast) and in case comming back it's also not bad idea. Perhaps you have right, that they would not care as you provide them with funding which will be gone otherwise.