Dear all,
since some time I was doubting one of our mantra of get the lowest TER possible, and if it really makes sense.
Especially I was wondering, that most of the ETF's money is not coming from private people like you and me, but from institutions, who will be much more regarding on costs than actually some private guy. If this would be the case, all the institutional investors would run for the much cheaper Vanguard funds than their European peers from the other companies.
So I tried to plug in the ETFs in Just ETF. I chose some MSCI World ETFs which have at least 10y track record, mixed it up with distributing/accumulating/swapper etc. The performance is shown in EUR.
The list of the shown ETFs is shown below :

You can see that the TER varies between 0.2% and 0.5%. 0.5%! Geeeez I was thinking, the difference must be enormous.
Now if I get the performance for all 5 of them, I get something like that (max. interval possible, means the timeframe since the youngest ETF has been set up.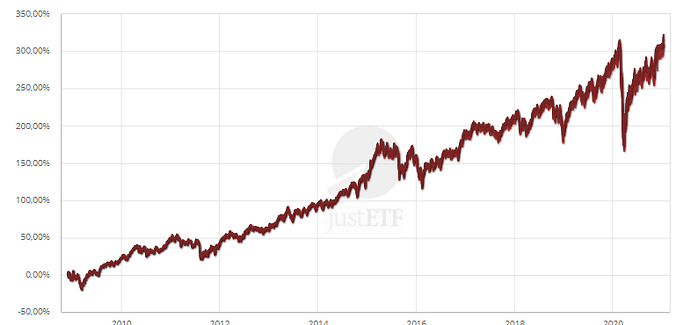 Fuck - Not that much difference in the end it seems. Have to zoom it really hard to get a difference…
So for a better view, I did a different chart :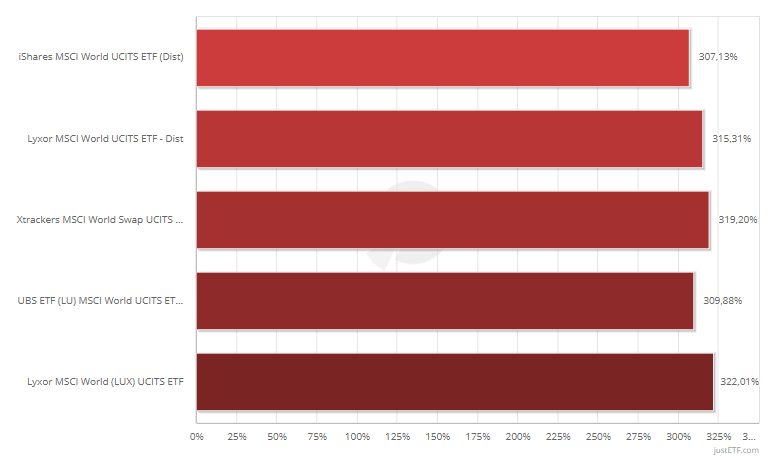 The range is between 307 and 322% of performance.over around 12y. Arithmetic average is 315%. The deviation from average is at a maximum a whopping 2% (sarcasm) over 12y. Was expecting another result to be honest.
Finally,if the lowest TER has actually the highest return and the highest TER the lowest, it is actually not correlating for the other funds.
My take home message : TER is actually not the first thing to look after.Even a high TER fund has to obey to market laws, and if it does not deliver the performance of the index, market players are out and the fund will die. I guess it is more interesting to look at tracking error of the funds towards the index than TER.
For those (like me in the beginning) who mixed VTI and VXUS to get a lower TER, meeeh probably not worth it. If it is to under/overweight US, why not.
All data from JustETF. That is why I did not analyse Vanguard funds (and actually you get more funds with MSCI World than FTSE…). Is there actually a online tool like JustETF, but with more funds than just the EU ones ?
Cheers
EDIT : I guess this result is only valable for Index funds without management risk, and with a high enough liquidity. If you take the Vietnam ETF results might differ ?
EDIT 2 : Typo, it is not 0.02% but 2% deviance from average over 12y