Inspired by the thread about complimentary insurance, I would like to get your opinion on the basic insurance. I am now with Assura Standard Model and pay 280/month. I know that Assura has low ratings, so I was thinking if it would be worth it to switch? For sure it does not seem to make sense to combine the standard model with a high deductible. I can go get treated wherever I want, but I pay for it out of my pocket anyway, so…
Is there any other model you would recommend? I initially did not choose the family doctor, because it seemed very limiting. I was new to Switzerland, didn't know if I will stick to one place and didn't know any good doctors. It also feels weak to depend on a single doctor who may be on holidays sometimes?
Any experience with the SWICA Pharmacy model? I really need to go to a pharmacy first? I can't call a number? And HMO? Are you limited to a selected chain of "praxis"?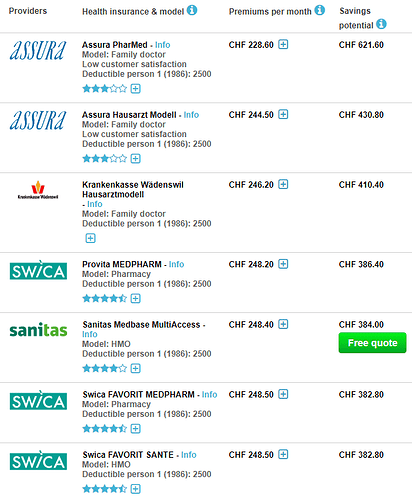 I think Telmed model sounds reasonable: you call them, they give you assistance and then you can choose the praxis that you want. Correct? Here the highest rating comes from Agrisano, followed by ÖKK and SWICA. But is Agrisano not only for farmers?




Regarding complimentary abroad insurance (deliberately not saying "travel"). I wanted to go this year to USA (which didn't work out, "thank you" corona), so I know what you mean by fine print. I eventually took the insurance from Viseca for 30 CHF, but I'm really considering taking this complimentary insurance and having a peace of mind. To me, traveling is also a big motivator in life, and the more financially independent I get, the more ambitious travels I would like to make. So I would not like to hear at some point that they refuse to insure me!