Dear All,
This might be obvious but I would like to ask this to be sure and avoid any mistakes:
After C permit or naturalisation, the canton sends a letter like this: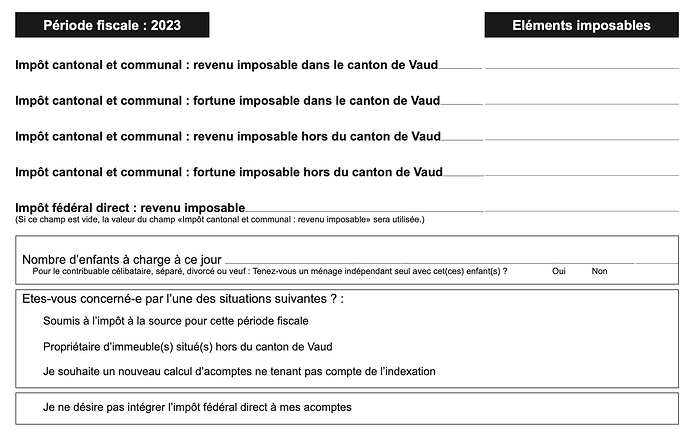 In the above screenshot:
What is "revenue impossable"? If my partner and I am working, is this just the sum of two salaries? Or, should I deduct various reductions/costs and then report "revenue impossable"?

I looked at last year's tax declaration and it has a figure "800 - Revenu imposable". But, the latest form mentions "Période fiscale : 2023". I guess I can not make such detailed calculation for the year 2023 already, right? So, what am I supposed to do?

Are these calculations are just best estimates to determine monthly instalments? And if I pay less or more, the payments will be adjusted after the next year's tax declaration I believe?

I guess "Eléments imposables" is just a number/cost in CHF?

"Je ne désire pas intégrer l'impôt fédéral direct à mes acomptes" ("I do not wish to include direct federal tax in my instalments") - what is advantage of this? i.e. I need to pay these at some point. So, I guess it's not necessary to tick this box.
Thanks in advance!