Or they only allow German residents?
Hi @rexleonis,
I'm afraid that in that case, you're out of luck. In order to open an account with ING Germany, you need to be a German resident.
At least that's what they told my partner when she wanted to open an account (Swiss resident). The application was blocked referring to the lack of German address.
I just checked ING's help chat bot which stated clearly (in German) that an account can only be opened if you "live and work in Germany":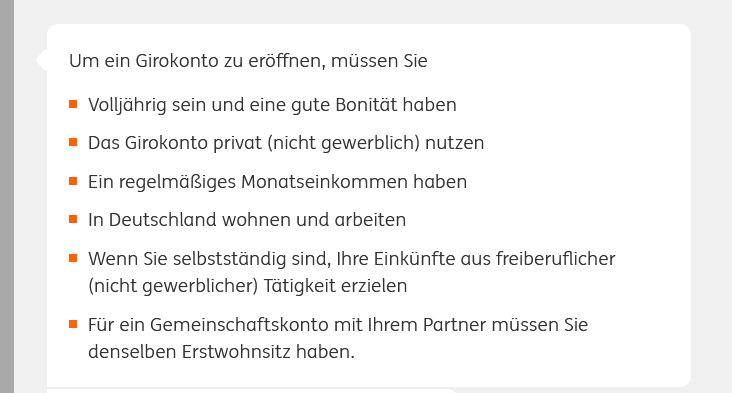 If you need a good bank basic bank account with credit card and a solid base for your portfolio: DKB definitely opens accounts for customers that are not German residents (I don't get paid for this recommendation. Other banks may also be more open.)
Any specific reason you were interested in ING?
Cheers,
J.
ING do not open accounts for non-residents, to my knowledge. Though they have kept accounts for people leaving Germany.
comdirect and DKB do open accounts. Probably Consors as well (though maybe more reluctantly).
From this month all their ETF Sparplans are FREE of charge and overall they offer the most of all the brokers/banks compared on Finanzfluss website.