Hi everyone, I have a few questions I need some help with please.
I have added screenshots of the ICTax site and the tax platform in Geneva.
1.The 3 last fields of the last table of ICTax:
am i mapping then correctly ?

the fact that there is an amount in field 3 means that I got dividends from some of the companies in the ETF? And these were withheld in Ireland ? And these I cannot recover, right ?
Where do I enter the amount of cash sitting in my broker but haven't invested? Should I just add another entry similar to a bank account? The options I have are:
compte bancaire ou postale
action ou part sociale
obligation
produit dérivé
fonds de placement
créance et prêt
gain de jeu d'argent
relevé fiscal papier
participation qualifiée
placement fiduciaire et compte à terme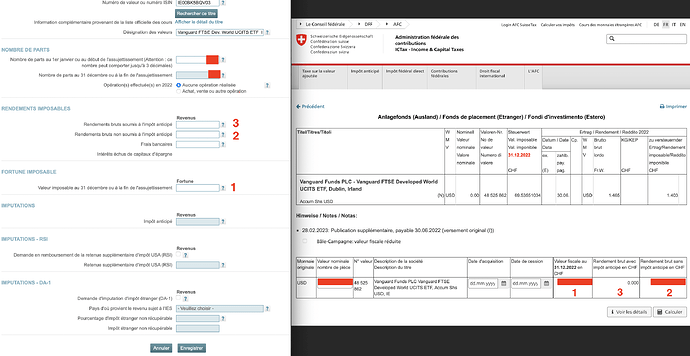 I use another broker for trading US stocks individually. Do I have to add every transaction by company or just those that payed dividends? I have bought and sold about 10 different stocks a few times each… should I add it one by one??
Thank you in advance.