I'm in pursuit of a nice bond. I just can't believe yet, that there aren't any solutions to the problem except having plain old cash?
Hedghog's comment is all I found concerning this topic.
Hedgehog:
Yeah, fixed income options aren't looking any good these days. Any CHF denominated or CHF hedged especially, all yield negative or far below 1%, which just isn't enough for me to bother.
I'd like to open a discussion and learn some more about CHF hedged bonds.
I've learnt so far, that for most markets the analysis shows hedged bonds are recommended compared to non-hedged bonds. They have lower volatility. See here a paper by Vanguard: https://personal.vanguard.com/pdf/ISGGLBD.pdf?fbclid=IwAR3G2ZJiMoNkPTI7nYUXjbzu5SEGF1iNi_yxaGFcniREb2V3_sAF2BtG8og
it seems other analysis have come to similar conclusions.
My bank gives me 0.05% interest. So anything above that, will win compared to cash :-). Here's a comparison between VWRL (for reference), US treasury bonds and some CHF hedged bonds.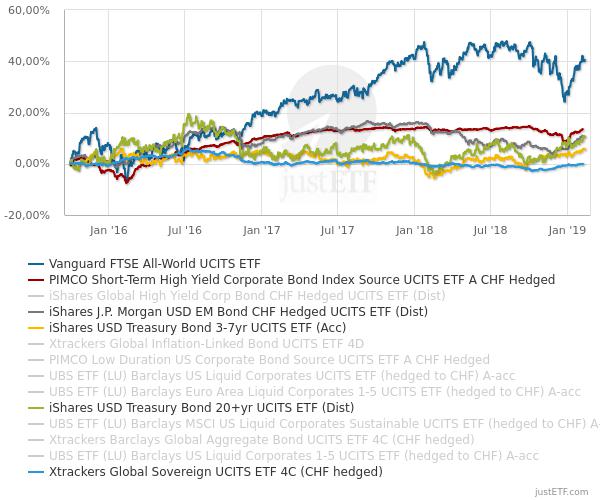 I think the hedged bonds don't perform much worse than the US treasury bonds.
I'd be very thankful for thoughts on this :-).