I was looking into the numbers of becoming landlord in Switzerland and I found this example:
(Source: The bliss or burden of letting you can change the language to DE/FR/IT)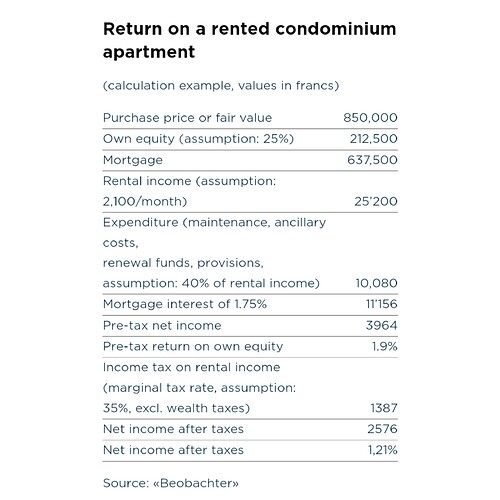 Considering that there are some factors not considered on the example like, position of the unit, size, etc. I found that a additional 2.5k CHF a year in a personal cash flow for an investment of 210k CHF to be quite low. I was wondering if some mustachians investing on real estate can confirm the numbers?
I understand that the value on real estate is generated over time with the grow value of the property but I found difficult to believe that the benefits on teh cash flow are so small. Maybe I am naïve.
Let's say I would like to live out of it and my need will be an income of 100k a year. In this case I would be required to own around 40 apartments!!
Also to buy the first unit, as I am not gonna live on it, I can not count on 2nd and 3rd pillar money as this money is just for your personal house.