Hi Mustachians (Edit 2022-04-19, received an unclear reply from Yuh)
Short version:
The issue is there is no IBAN for Canadian bank and my app Yuh(digital bank) needs IBAN to process the transfer.
Recap:
I need to transfer 70k CAD to fund my IBKR account from the app Yuh, and on the Bank Wire Instructions generated by IBKR, there is no IBAN as it's Canadian bank
*Provide the following information to your bank to initiate the transfer.
Wire Funds to
Royal Bank of Canada
180 Wellington St W - 8th Floor
Toronto M5J 1J1
Canada
SWIFT/BIC Code
ROYCCAT2XXX
Bank Account Title & Address
Interactive Brokers LLC
One Pickwick Plaza
Greenwich, Connecticut 06830
United States
Bank Account Number
09591
1034289
Transit Number
Account Number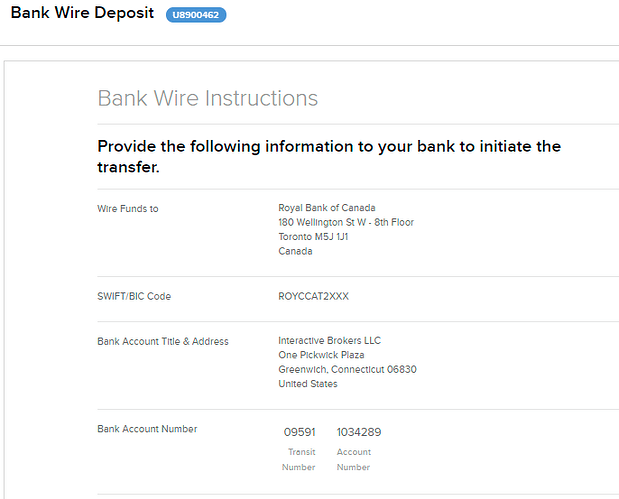 But on Yuh you have to provide a IBAN to be able to make international transfer, I tried both with the simple account number and the Transit number+account number or BIC+ Transit number+account number but nothing works,
How did you manage to solve this?
Thanks
I also searched the Forum before asking the question and found this post, but I haven't seen a clear answer to his question:
@boschika boschika
Did you have the same problem as me? Have you found a solution? Thanks
I have also found this artcile and tried with the suggestion but Yuh doesn't seem to recognize the account number '0003 0959 1103 4289 00' so still blocked
I received a reply from Yuh, maybe their reply is concise, or maybe the person hasn't read this post at all. Here is our conversation record: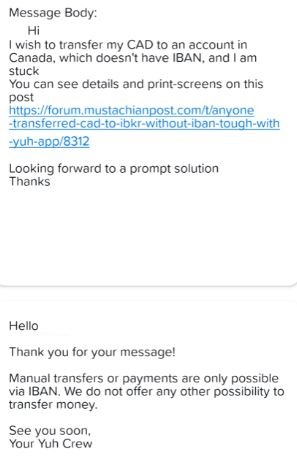 I can't find an easy way to reach IBKR support
Edit 2022/04/21
I am travelling in Canada now, I went to a RBC branch yesterday as I also thought about withdraw my CAD in cash and wonder if there is a solution to pay IBKR directly as they have their CAD account with RBC
Yuh hasn't specified any max withdrawl limit outside Swizterland, only shows it costs 4.9 CHF


but the staff told me I have to have an account in Canada to be able to pay IBKR and their ATM will not allow me to withdraw 70k CAD, and they can't open an account for me because I don't live in Canada…