Thanks for your input!
My only company in my stock picking portfolio offering stock dividends is IMB (Imperial Brands). I like stock dividends as they are corporate actions. If you choose the stock dividend instead of a payout, you basically purchase more shares without any transaction costs. And you get to choose: if the company becomes overvalued, you can switch to cash payout (and buy other undervalued companies instead).
I wish more companies would offer stock dividends.
RIO looks interesting … stellar credit rating for one thing, great looking dividend yield as of now.
I've looked at RIO a couple of times, but both their EPS as well as their operating cash flow (OCF) is too volatile for my stomach. I guess you currently get compensated with a nice almost 10% dividend for that.


The other thing I don't like (as someone who increasingly relies on steady passive income) is their unsteady dividend track record. I prefer companies who have raised their dividend for a decade, the longer the better (no hard rule, but a guiding principle).
Currently, RIO looks undervalued, but given their negative growth over the next couple of years, I don't expect their stock price to move much - even if they return to their historically normal multiple of about 9 x OCF, their price would stay mostly flat two years out.
Of course, Mr. Market will ignore this. In fact, you should consider my back-of-the-napkin analysis as a counter-indicator: Mr. Market will now send stock price for RIO into overvaluation territory, at least for a while.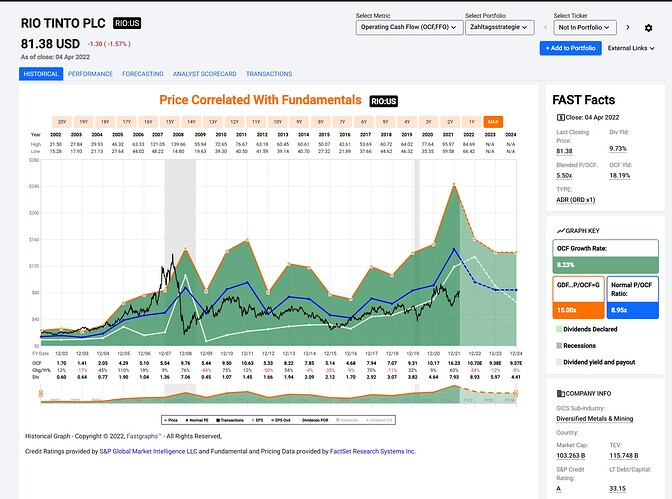 If I had to pick a high yield company today, I would probably take EPD. EPD (yielding 7%) has steadily increased their dividend for over 20 years, is undervalued and grows at a steady nice positive rate.
I wish I hadn't ignored them in 2020 when they were really cheap and yielded probably more than 15% - the entire oil story at the time was a little different than it is today…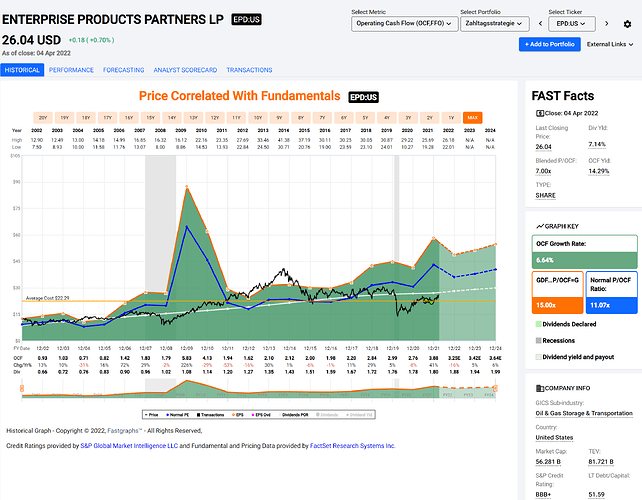 Good luck with your satellite strategy!