Hi all, been reading and searching through the forum for a while but this is my first post!
I have a few questions regarding my first attempt at building a portfolio (100% equities as 30 yo with very long time horizon, located at IB).
The idea is to hold the total world market with a small cap & value bias in the US market (as suggested by Ben Felix (YT link and his PDF about it link). The reason why to keep the bias only in the US market is because of lack of good small cap & value ETFs for the rest of the world.
The two ETFs he uses for the bias are
For the portfolio I started with VT, however, since it includes the entire world I would split it up into VTI + VXUS or even VTI + VEA + VWO for a bigger AUM and lower TER.
The next step would then be to apply the bias on the US market by swapping the VTI position for 1/3 VTI + 1/3 IJS + 1/3 ISUV.
Thus I would end up with the following (last row as a comparison w/ VT)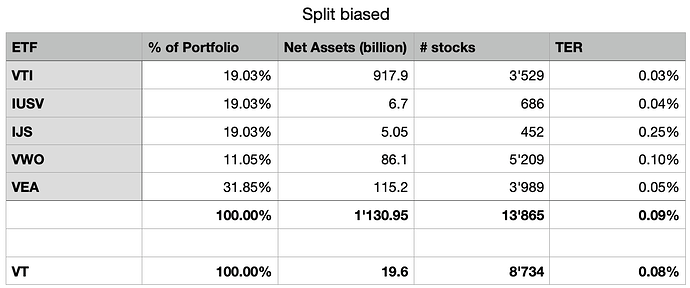 Questions:
Am I setting myself up for failure or is that an actually sane approach?
Can I simplify it by using VT, ISUV, IJS?
I'm not sure how I would go about defining the percentages…
If I do a 3-way split of VT (ie. VTI + VEA + VWO), should I go with an Europe based ETF for the last two (eg. VDVE & VFEM in IRL)?
From reading the forum and my understanding, in practice it doesn't make sense for VWO (emerging markets, stick to US ETF) but for VEA it could make sense as half of it is Europe. Is that correct?
Any other thoughts about this approach?
Thank you all for providing so much good and relevant (!!) information and discussion!