I've often wondered how you know when you've got enough in pensions so you should prioritise money that you can access before 65. I decided to do a calculation to get a feel for things.
I assumed that for a basic existence I need 50,000 EUR (I live in France) to fund my lifestyle with and assumed 2% inflation. Around my standard retirement age I would need around EUR 87,000 per year. This is for my family, not just me.
Then looked at what I would get from state pensions (pillar 1 in CH and a similar UK scheme); pillar 2s (based on the regulated annuity rate); then some assumptions around growth for the various pensions that I have some control over (pillar 3s and similar UK schemes). I looked at when they would become available and compared the various incomes with the spending requirement for each year. All adjusted for inflation.
My calculation showed that after the standard retirement age, the pension savings I already have are currently a little higher than I would need. Obviously if investment returns are lower, state pensions get worse (very likely!) or I decide I need more money then things change. Obviously I'm not able to stop contributing to most of these retirement accounts so there is an increasing buffer being built in.
I also have some post tax investments. these would be used to cover the period between retirement and early retirement. I have included no estimates for any future saving I might do. I will of course continue to save money.
Most important things from this analysis from my perspective are that:
a) pillar one type schemes are great and if you have the choice to contribute voluntarily in more than one country (as UK citizens do for example) then it could end up covering a really big part of your retirement needs.
b) There seems to be a real risk of over saving in pensions. Chasing tax efficient saving could end up with a very well funded retirement but leave a big gap until you can claim it.
c) Once you're fairly sure there is enough in the post normal retirement age pots it's time to really prioritise investments that can be accessed before traditional retirement age.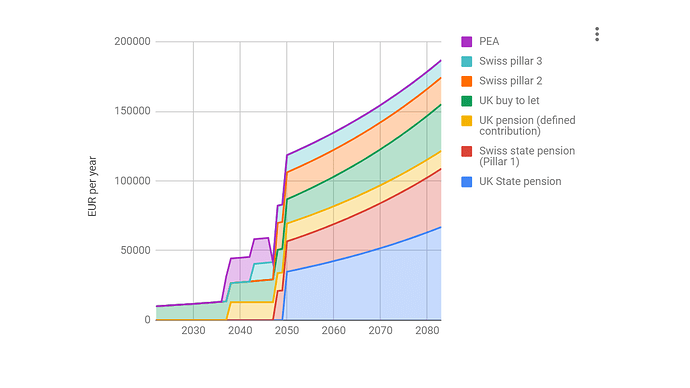 Note that UK state pensions look massive because the assumption is that both my wife and I get a full one each and that they remain indexed to inflation. Lots of uncertainties.