I saw one or two rental deposit discussions from other posters, hopefully this one has enough value to exist on its own.
As you might know, having money sit in the deposit account is terrible. The other option - insurance/Mietkaution - is also expensive if it is even accepted by the landlord. But what's the real difference? This was the question I had recently after putting all of my accounts in YNAB and seein a 5-figure sum sitting there doing nothing.
So I made a calculation, the numbers aren't exactly my situation but they are close enough. The equation works even with my numbers so consider this the generic version.
In the chart below you can see the options of
yellow line: money rotting on the account (the annual porto fees are more than the interest)
blue bars: estimated returns at 5% level ( = compound interest minus annual insurance premium)
green bars: the annual difference between the two approaches
The annual premium for the Mietkaution has been calculated with Axa. It includes a 10% discount because we already have insurances there. Axa was the cheapest option I could find.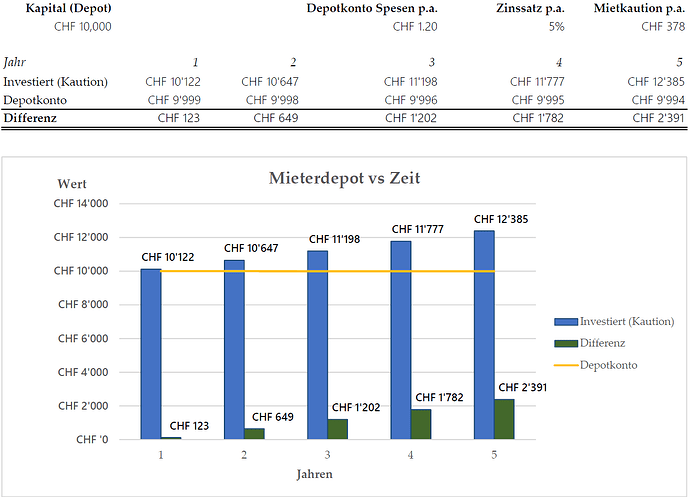 Yes - we have high rent! We are keeping over 10k in the depot account (it's already there)

.We live in Zug in a family apartment and it is what it is. For various reasons, we are absolutely unable to move elsewhere in the upcoming years.
Regardless, up until now I've thought the deposit insurance is expensive but considering the opportunity cost, it doesn't look so bad anymore. In fact this seems like a no brainer because the break even would be already after 1 year. I did an alternative calculation at 4% annual return and it's still breaking even after year 1.
I am in good terms with our landlord so this motivates me to re-negotiate the deposit. Comments would be extremely welcome. Am I missing something?