How they can claim to have very low currency exchange fees if the fees are nearly 1% is beyond me.
Marketing

I think that these fees are quite ok for people you don't really go deep to know if there is better solution elsewhere.
The more I'm looking at this app, the more I have the feeling of : ok they did a great job, but they screwed it up on several point… Especially on the FX Rates. At least, they could use like neon, the MC FX Rates for purchasing aboard… And for investment transaction, let say that this 0.95% currency exchange fee could have been ok if you really don't want to go with a foreign broker and have the simplicity of an unique app to do everything.
Yes, you're right. I was too quick.
I have the impression that it is on purpose. They looked at their competitors and made sure they didn't go too far.
I'd also really like to know about their 2022 pricing model. Looks like they're laying out their net, catch as many customers as they can, and then hope that many people will opt for one of the non-free models rather than move elsewhere.
Did anyone found a complete list of those 100 shares/ETFs/Cryptos they offer? Or is anyone registered and could provide screenshots?
If that 0.5% on investing is all-in, this could be an interesting offer for people that invest with (very) low amounts. However it also seems you don't buy directly; they buy everyday before close and you effectively get a daily price.
To be fair though, that's just like any other broker:
You buy an ETF (or any other investment product, really) - and that fund will some internal costs and fees.
Just a word of "appreciation" to the marketing experts who came up with the name "YUH". That beats ZAK and NEON. I guess they took the first 3-letter combination that didn't mean anything.
I signed up. It looks nice. Will play around with it.
I couldn't find a list, but I made a screenshot of ETFS and Crypto. The rest is a bit tedious to screenshot.
Crypto1: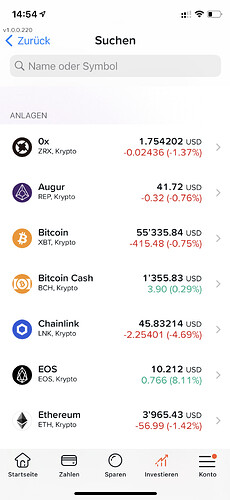 Crypto2: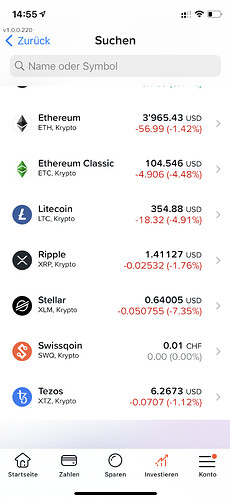 ETFs: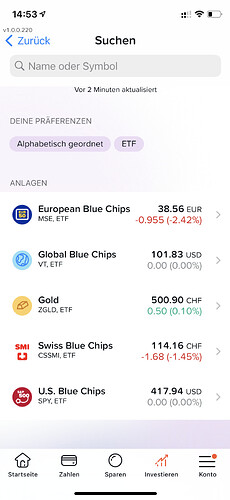 Hope this is useful.
For people who want a first review of the app, you can read about it in this blog (only available in german, but you can use Deepl for translation) : Yuh – die neue Banking-App von Swissquote und PostFinance - FINANZDEPOT
For now, it seems that you can only invest in 5 ETFs.
At the end, I think this app aims young people (18-25 years old) in order for them to have a free account and start to play and invest in equity, ETFs, crypto ; not sure about the utility for FIRE community.
so that's why the apps of Swissqoute and PostFinance are crap. Both not working for me for over 4 weeks. I gave up after several conversations with the support. Last coins moving away from SQ (to hardware wallet). It costed me a lot to convert all the coins to BTC, but now I'm relieved.
I like the 7th definition: "a word that is super litty and has no meaning but is still fire."
13 cryptos, 5 ETF, only 100+ of "the most sought after" individual stocks and negative interests on savings. Few hidden gems to be found there. I'd say you're right in your assessment and no, it seems to be aimed at people more hype than us (and willing to loose money on chasing cryptos/stocks that go to the moon!). It's nice that they have VT but the forex fees are somewhat too high to make it a one stop app for passive investments.
Good you didn't meantion YAPEAL.
Hundreds of rabid Yapsters would have begged to differ.
Probably in the plans or works, if this is (supposed) to take off.
That's the way it works: Release a minimal app / product first, then expand.
For the members of this forum.
Not everyone has 6 figures to invest through IB.
For long-term investors, it's a one-time it's small charge.
I'm actually surprised they're offering an U.S-domiciled ETF (rather than more expensive European ones) with their seemingly limited selection.
Thank for the list.
Just signed up with your code.

It's also nice that this bank allows clients from outside of Switzerland. So this is a cheap way of getting a CH IBAN (which you sometimes need for some other services) for me since I live in Liechtenstein.
Oh, it is you

What are the advantages when using someone's code to sign up?
I think it's an affiliation/referral programme. If I understood correctly, when you use a code, you'll get 500 Swissqoin and the user that offered you the code also gets 500.
Two questions:
I skimmed this discussion and if I got it right, this is a new online banking service that offers you all the services of a normal bank plus investment services like buy ETF and crypto?

After 2022, do you keep the advantages of the 2021 fees-format ? And these will correspond to the free-plan "FLIRT" ? or you'll lose advantages because if you'll go to with the FLIRT pack?
500 SQ correspond to 5 CHF. If you use the code you're helping someone reach Fire 5 CHF sooner

In the article, it is said that the VT TER is 0.08%, but no data for the other 4 ETFs. So I asked Yuh directly on Twitter and here is the answer: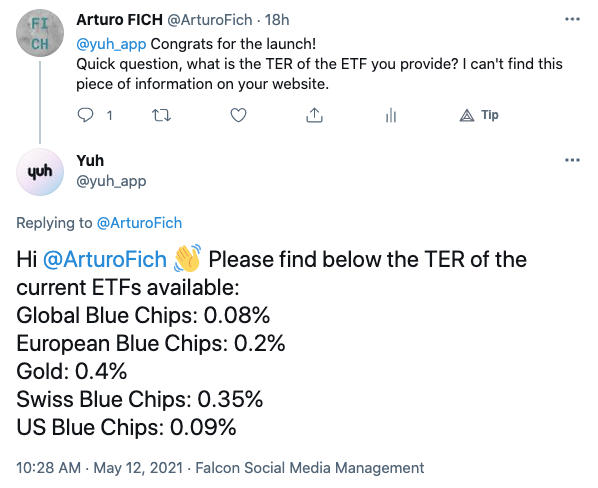 If you want to go deeper and know which ETF they are providing:
I am surprised that they listed two US domiciled ETF in their selection, they could at least chose VOO for their US Blue Chips

Correct
We don't know, but it won't be a surprise if they took the advantage of the free solution now to their payable package (KISS and LOVE), or they will maybe keep the free solution as it is now, but with their paid plan you will have access to other investment, better fees ? Premium card ?
From what I've seen, I don't know what PF provide here in their joint-venture with Swissquote (except money?). Because you are using Swissquote broker solution for investment and cryptotrading with their fees… Your money is also insured with Swissquote and not with PF.