Do you know if I can choose which stock to loan out under the Stock yield enhanced program?
No.
If you have 2 different accounts, one with lending enabled, another without lending, you can control what can be lent out by moving positions between them. However, if you have a debt (negative cash positions), some stocks are taken by IB as a collateral and they can be lent out no matter your settings (and with no interest payments for you). And of course they will take the juiciest ones to lend.
Ok thanks!
The reason I asked is that I have 3 positions that are eligible for lending, 1 is small so I don't care about risk. But other two are large 70k, these are leveraged ETF and I expect large upside, moreover expected interest is low. therefore I don't want to take any risk there.
In general, Does IB take the entire position for SYEP? Or only a fraction and the potential risk is on that fraction only? (I presume end of the month I can see that in the activity statement)
Thanks
No, they take as much as they need. If there is a huge demand for this security, the whole position can be lent out, but usually this is not the case especially if these are very common securities. You can see in "Short Selling" how many shares are being offered to lend at IB.
"Normally" lent securities, that means not one taken as a collateral and then lent out, you can see daily in the activity report.
I'd like to transfer some UCITS etf's from my Swiss broker to IBKR. Does anyone know if this is possible, and how long it may take?
I know I could just sell my ETFs instead and transfer the cash to IBKR, but my Swiss broker charges insane transaction fees for bigger amounts.
Check the broker's conditions.
Did you check transfer fees?

I think I haven't phrased this clearly

Selling the funds at the Swiss broker would be a lot more expensive than transferring them to IBKR.
So the fees are clear to me, just wanted to know if anyone has experienced the fund transfer process, and how long it takes (time out of the market)?
Also, I assume you can buy UCITS funds as well as US funds at IBKR?
There's no time out… it's a transfer you still hold the shares the whole time.
Makes total sense, I'm somehow still wired to the postal way of doing things (sending my funds in a box to IBKR)

Are you sure about that?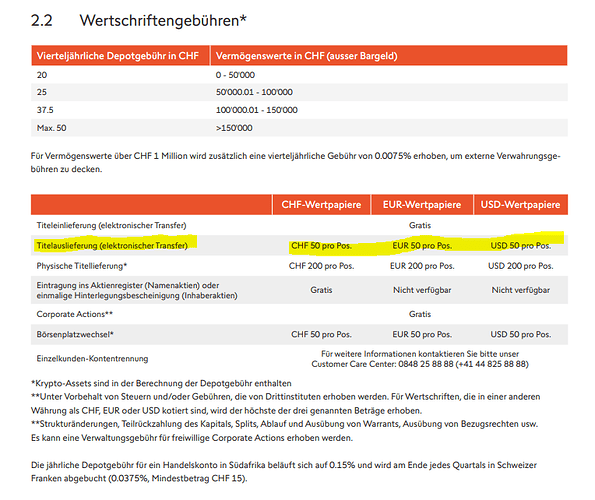 https://library.swissquote.com/shared-images/brochure-trading-pricing-bank-de
It obviously depends on the amount of your positions, because the stamp fee is percentaged.
Thanks, yeah, Swissquote would be better! But in my case, it's a postfinance story
No prob, appreciate the support from you guys!
This should be the fee, correct?


I've read somewhere it takes days. I wouldn't be that worried once you know the costs. You are not out of the market so as long as you don't want to sell them asap, it's not a big deal.
I managed to transfer shares traded on LSE from my UK based broker to IB UK Ltd. Neither charged any fees.
On the other hand I attempted a transfer of a mutual fund which did not work. I had to sell and re-purchase.
Your situation with a Swiss broker is obviously different. At least you have one partial success story as motivation
Cool, cheers, I'll try and see
Do they have the FINMA protection of 100K CHF? or any other protection for EU residents living in Switzerland?
Not protected by FINMA but, as I understand it, the main customer assets are held by IB LLC in the US where they are protected by SIPC (up to USD 500k total asset protection, cash protection limited to USD 250k). Some customer assets may be held by IB UK where they are protected by FSCS (up to GBP 85k).
Also, if you don't borrow any money (margin) or stocks, all customer assets are segregated.