Apologies if this post disturbs anyone, I would be grateful if anyone can advise me what to do now to minimize my loss.
I did a search on the Forum about 3A and have read a few discussion threads, my situation looks kind of similar. the premium invoice for this year was due 1st Nov and seems I have till month end to pay for it.
I have bought 3A at Axa Winterthur since 2016 and paid 3 annual premiums of 6.8k CHF.
Life insurance Protect Plan
Contract
Policy dated: 24.10.2016
Beginning of the contract: 01.11.2016
End of the policy: 01.11.2051
Pension type: tied
Premium rate: CHF 6'798.00
Payment method: Annually
Value
Calculation date: 10.11.2019
Surrender value: CHF 11'641.00
Redemption value of bonus: CHF 484.00
Policy pledged: no
The table of "technical values" is attached.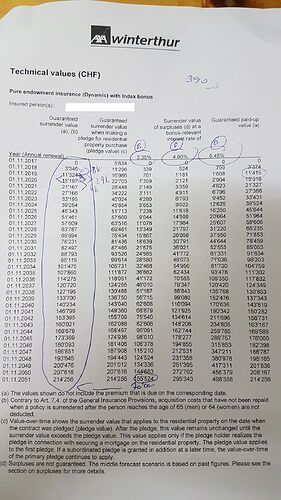 I think not paying premium in the first 5 years will lead to the ending of the contract and policy. 2019 premium is due and the deadline to pay is end November.
1.When I signed the contract in 2016, the salesman confirmed to me that I will be able to withdraw my money if I leave CH or buy a house, WITHOUT specifying that I can never withdraw the amount I paid. Do you think this act of hiding information can be used to sue them to get a full refund as information was not given in a transparent way? Or legally they are not at fault at all or very difficult to win against them?
2.It seems that if I close my AXA 3A without buying a 3rd pillar at bank, I have to give back the tax saving I have had?
3. Therefore what is the best action I shall do now to minimize my loss? AXA advisor tells me that if I close my account now, I will only get back the 12k, which means I will have 9k incurred loss.
Thanks a lot for your time