Update(New question):
Does anyone have experience in transfer Canadian dollar from IBKR(Interactive Brokers) to Yuh? Did you receive on Yuh the exact amount which left IBKR? or how much did you have to pay? (%? flat fee?)
Thanks!
###############
Original Post:
I want to transfer 3k CAD from IBKR to Yuh, both accounts under my name.
it is the first time I "withdraw" money from IBKR and I can't.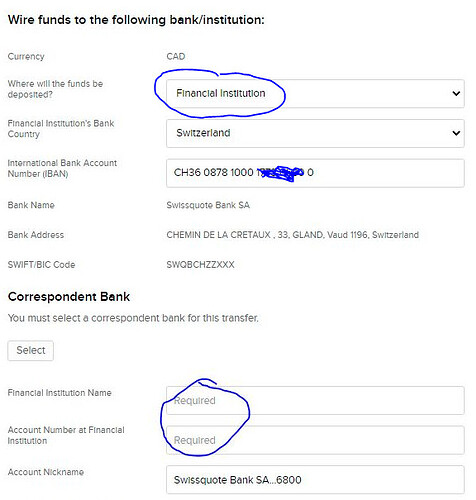 if I choose "Financial Institution" under section 1 and put my IBAN, IBKR then asks information about "correspondent bank". I don't have this info and asked Yuh last week but their reply was completely useless. (the person hasn't give me the requested info, I guess he hasn't read the print-screen)

if I choose "Bank" under section 1 and put my IBAN, IBKR wouldn't ask info about "correspondent bank" but my IBAN would be recognized as an account @ UBS, and even I change the SWIFT/BIC to Yuh's, it will fail with "The specified bank cannot be used as a correspondent for this type of transfer"
so has anyone succeeded to transfer money from IBKR to Yuh and how did you do it? after more than 1 month of opening account with IBKR and put most of my money in, I still can't find how to reach their human customer support (not a bot or FAQ etc)