Hi,
I am looking for advice on where to put our money and on ways to increase our savings rate!
About me: Mid-30s, married, 1 kid (soon, 2). Single income for at least near future. No house, no car. In Switzerland since about 2 years on B permit, non-EU.
My FIRE approach is a maybe bit different to the majority here as I actually quite like my job/industry and the flexibility I have in it, thus it is mostly the FI part of the RE that interests me.
I have spent basically all my life up to a couple years ago in school and now work in academia, thus my (and thus my family's) savings are quite limited. Luckily for me, Switzerland is possibly the best place in the world to be an academic, at least financially (I think this is true of many jobs). I have always been, by necessity, a bit frugal, although I am a travel addict and have spent a fair bit of money (and lost potential earning time) on backpacking trips to >50 countries. Since becoming a parent, I am recognising the need to play financial "catch-up" and plan for the long-term financially!
Goals: I am trying to optimize our finances in order to put money aside to buy a home within ~3 years, and to save a larger percent of our money for the long-term.
Current family assets are approximately:
CHF22k in 50% cash + 50% stocks in home country
CHF5k in retirement fund in home country
CHF8k in Pillar 3a (VIAC Global 100)
CHF4k in CH bank account
CHF15k in Pillar 2 (Freizügigkeitsleistung/Libre-Passage).
TOT: approx. CHF54000
Current plan is to transfer most of my cash from home country to here and invest in VT or VWRL via a Degiro custody account, and then make montly or quarterly contributions + max out Pillar 3a. Another shitty but important item is that I might owe ~CHF8k in fines/taxes in my home country for having contributed to a tax-sheltered retirement account in my home country while being (possibly) non-resident some years ago… long story, still sorting this out and hoping for the best

Here is our family's typical monthly budget (approx.)… we are planning to actually record all expenses for at least a few consecutive months soon to give some precision/reality to these numbers.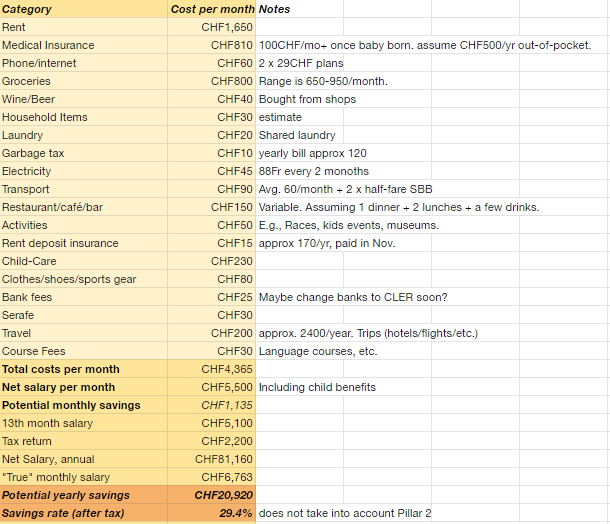 I am very happy to have found this community and the blog. Lots of great info here. Thanks in advance for any tips!