Hello everyone, just create an account and first of all, this forum is wonderful. I wish I had known about it when I first arrived in Switzerland. I made my first ETF order this year after 2 months scouting MP's blod and the forum and now happily hold VT in my IB account.
I already searched and read topics about vested benefits account but didn't see anything matching my situation so hope this topic can help me generate some helpful advices. Thank you all in advance.
I'm 34, non-EU, B permit resident who has been working in CH for a few years and have quite a decent contribution to the 2nd pillar until now. I can buy back around 30K given that I only started working here when I was 30. Soon I'm leaving this beautiful country to Japan for another international assignment for a few years. Then, I may come back to CH or find another assignment somewhere else. I have been looking at my 2nd pillar as bond-equivalent assets. Before leaving, I plan to buy back, then leave the money in finpension vested benefits account. Now, there 2 scenarios that can happen:
A. After a 4-5 years, I come back to CH for work
B. I will continue my global journey and will only touch my vested benefits when I need/retire (but I don't know where, probably not Switzerland given my citizenship is not much welcomed unless I'm filthy rich :P; I don't want to retire in my home country and I'd rather keep my retirement assets in USD or CHF than home currency (VND))
My questions:
Buy back now should be a good idea, right?
In scenario A, if I come back to CH after a short term gig, I will need to transfer my vested assets back to the pension funds, should I choose a more cautious strategy maybe 60/40 to reduce short-term volatility, so that in the next 4-5 years hopefully I'm not losing money?
Scenario B: As I hold no bond in my taxable account in IB, should I keep my vested assets with heavy weight in bond, hence, avoid the 99% strategies? 80/20 is what I want but not sure if it's good enough.
In both scenarios, since I cannot have more than 1% in cash, what bond funds should I choose despite the fact that holding cash seems to be better at this moment :(, also what's the benefit of the real estate funds?
I have set aside a good amount of emergency cash but turning my 2nd pillar into full equity investment may be a bit too much for my heart to handle haha. I'm not intending to hold any bond in IB at this moment as my plan is "simply VT" there.
Attached herewith is my mock-up strategy at finpension. I try to bring the equity part a bit closer to VT but not exactly the same.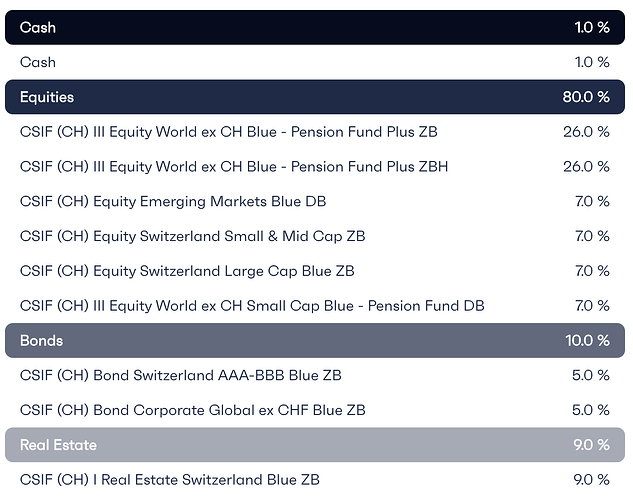 Though I try to read very intensively the past few weeks but I'm still a newbie to many things so be patient with me and sorry for not being able to write shorter

Edited: add destination.