Nice performance guys

Damn I shouldn't have gone for that EM and gold tilt in my finpension portfolio… I am at 8% YTD.
Very interesting, thank you! I am thinking about switching to Finpension from VIAC's Global 100 (YTD performance: approx. 16%), and "CSIF (CH) III Equity World ex CH Blue - Pension Fund Plus ZB" (CH0429081620) potetially has everything I need. Can I go for 100% (or nearly 100%) of CH0429081620 only with Finpension or are there no custom strategies or limitations due to 3a regulation? VIAC also has CS institutional index funds (different selection) but unlike Finpension, they do not state that "these funds can reclaim a large part of the withholding taxes on foreign dividends and interest".
I am thinking about changing/adjusting also because the main bulk of my investments consists of individual CH stocks (that I want to eventually complement with VWRL or VT) - and VIAC's Global 100 has a heavy CH regional weight (same with Finpension's Equity 100). If an individual strategy with non-CH focus is not possible, it is probably not worth leaving VIAC, or am I missing something?
It is.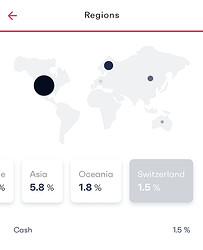 On the hand, while you could go 99% all-in on Switzerland Small & Mid Cap (CH0110869143), they limit your exposure to Switzerland Large Cap Blue (CH0033782431) to a 50% maximum. I assume this is to prevent the shares of the big three (Nestlé, Roche, Novartis) individual stocks to exceed 10% of your overall portfolio (as they would otherwise).
Thanks! And if I want to go all-in (or close to that) on CSIF (CH) III Equity World ex CH Blue - Pension Fund Plus ZB" (CH0429081620), avoiding Switzerland?
That's actually how this pillar is setup:
Sorry for an ignorant question from me please: whats the difference between Pension Fund Plus and the previous Pension Fund ZB (CH10130458182)? The later was it seems replaced by the former. When this happens, if I was 100% invested on this fund, is the transition transparent or is there a communication on it specifically?
It happened automatically. I got a pop up message at some point when I logged in on the finpension website.
The essential difference from the old ones is no withholding tax on Japanese dividends.
Dear Mr Musk,
We are increasing the trading frequency. From 2 August 2021, we will trade weekly (always on the first day of the week). This means that your deposits or transfers to the finpension 3a Retirement Savings Foundation will be invested even faster.
Another change concerns risk profiling. In future, your risk capacity may no longer be lower than the investment risk of the selected strategy. You will be made aware of this in the application if you need to review your risk profile.
Finally, we have noticed that our foundation was sometimes used as a pass-through account in order to benefit solely from the low withholding tax of the Canton of Schwyz. For such new clients domiciled abroad who withdraw the transferred money within one year, the processing fee will therefore be increased.
The updated regulations can be found at the bottom of this page: Structure – finpension
Kind regards,
Your finpension team
Why not switch to CSIF (CH) III Equity World ex CH Quality - Pension Fund (CH0253609066) which has higher returns?
And will it have higher returns in the future?
We don't know.
But for the last 27 years it pretty consistently had them.
I have CSIF (CH) III Equity World ex CH Quality in my Finpension portfolio but it's only a small part. Why not all?
Higher returns usually also means higher risks
Efficient markets cannot be forecast
You cannot infer the future from past profits
The largest part of my Finpension portfolio is CSIF (CH) III Equity World ex CH Blue - Pension Fund Plus ZB.
OK, so why did you choose your fund compared to this one?
I think I wrote everything above.
Yes, you wrote the reasons why you chose it but you haven't mentioned/compared it to the fund I mentioned. That's what interests me.
Aren't you capable to do it yourself?
Note that CH0429081620 was my answer on the following question: which fund offered by finpension profits most from being tax-sheltered (and not normally available for retail customers)? I may invest in some Quality funds, just not at finpension.
If you feel your time being wasted on a public forum, I'd be happy to pay a consultation with you.
all world vs quality trackers have been discussed previously in this thread