Ok, guys think about this…
Why would you buy an index ETF with an average return, when you can buy the "drivers" of the ETF's performance and increase your returns.
Yes I know… "diversification" but, look at the table below: I made a calculation on returns simulating 2 scenarions
portfolio 1) I buy VTI
portfolio 2) Buy the top 5 stocks in VTI and rebalance every year (it could be every 6 months)
Look at the returns below.
Yeah… you may think that works only in the bull side but not only, I simulated the same in the worst scenarios, example 2008, and at the end, you lose more by having the complete Index
What are the risks?
The risk would be that one of the top 5 goes bankrupt… really? I would say that the probabilities are very small.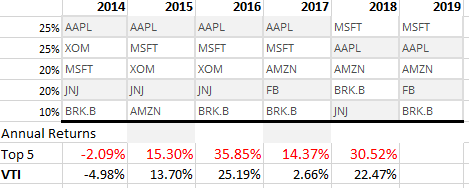 So, I'm thinking about this "strategy… sure I need to play a bit more with the % per stock
Thoughts?
Update 1 :.… I have simulated from 2006 to 2010.
The data I have from the weighted S&P500 for this period is the composition at the beginning of the year so, the simulation is rebalancing your portfolio in January and run the numbers 'till next January (end), check out the results from 2008…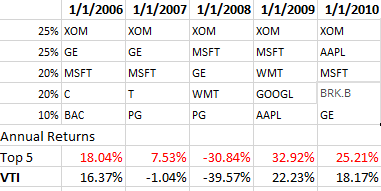 Update 2
I have simulated from 1999 to 2013 (that's 15 years)
The yearly performance of the portfolio nos is calculated from 1st of January to 31st December.
I have included not only VTI but SPY as well since the "top 5" are the top 5 stocks on market cap for the S&P500.
Numbers in red indicate the outperfomrer
I have made a simulation of compounding the gains from year 1 to 15. The Top 5 final capital is 6.9 times more than the SPY ETF (which is only 2.1)